Sunny Cambridge Kitchen: Get the Look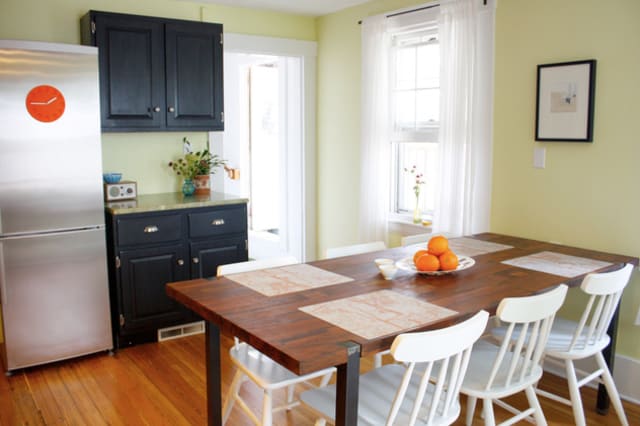 Jessica and Eli updated their condo kitchen by painting, adding a few new energy-efficient appliances, and focusing on lighting and furniture. Everything lives together comfortably, and there's a laid-back feeling to the space that's achieved with simple, classic furnishings and pale yellow walls against dark kitchen cabinets. Here's a complete source list, with products and links, to achieve a similar look.
Pale Yellow Paint Color
Benjamin Moore
Eli and Jessica matched their walls to a Benjamin Moore color called Lemon Twist 394, a light, cool yellow from their Classic Color Collection. If you're looking for more yellow paint recommendations, see this post.
Classic Table and Chairs
CB2
The kitchen table is CB2's Darjeeling Dining Table ($899). The top is made from reclaimed railroad ties and the base is raw metal that's been finished with a clear powdercoat. It seats 6, or 8 if you add chairs at each end of the table.
IKEA
Eli and Jessica have CB2's Spindle Chairs, which have since been discontinued from the catalog. For a similar style, try IKEA's Olle Chair, $35, DWR's Salt Chair, $98, or — for the real deal — get a set of Paul McCobb Planner Chairs.
Energy-Efficient Appliances
PC Richard & Son
The refrigerator is Summit's FFBF245SS, an Energy Star-qualified model. It's available at several different appliance and electronics stores, including PC Richard & Son, where it's priced at $1,169.97.
Frigidaire
Eli and Jessica chose a dishwasher by Frigidaire — shown left is the Energy Star Professional 24-inch Built-in Dishwasher for $800. It's available at lots of different big box and chain stores, as well as through Frigidaire online.
Abt Electronics and Appliances
This kitchen's oven is the Premier Pro-Series Free Standing Gas Range. It has lifetime-guaranteed burners and it's a slim 24 inches wide. You can find it online or in-person at several stores; we found one for $990 at Chicago-based (and online) retailer ABT.
Updated Kitchen Cabinets
Mythic Paint
Jessica and Eli used Mythic paint to update their outdated cabinets. Mythic makes no-VOC latex paints, and — like most paint companies — they can match colors on request. For cabinets like the ones shown above, try a dark blue/black, like Smooth Indigo 026-6.
Kitchen Cabinet Hardware
The cabinets formerly had gold hardware, which Jessica and Eli switched out for new cup pulls. If you're looking for a specific style, online source Kitchen Cabinet Hardware has a huge inventory. Shown left are their Antique Silver Cup Pulls, $32.
Aluminum Pendant Lighting
IKEA
Aluminum pendants are well suited to a classic kitchen, and they're available in lots of prices and styles. The IKEA Foto Pendant Lamps, $30, can be connected to the 365+ Sanda track system if you're looking to do a full line of pendants across the kitchen.
For the full tour of this home, as well as a complete resource list, click here.

RELATED RESOURCES
• Sources for Small Kitchen Renovations
• Customized IKEA Kitchen: Get the Look
• Modern Kitchens: High & Low
• Crisp & Classic Kitchen: Get the Look
• Sunny Retro Kitchen: Get the Look

Photo: Kyle Freeman