Susan Kare's Bitmap Textiles Pair Housewares with Historic Design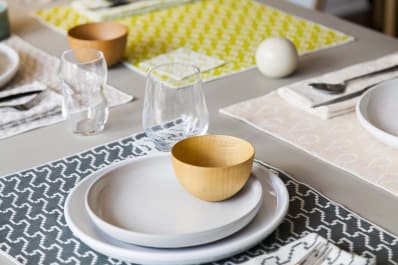 (Image credit: Areaware)
Susan Kare, the graphic designer behind Apple's earliest icons, fonts, and images, has a new product that harkens back to computer history. Her bitmap textiles for Areaware have a pixelated style that is reminiscent to anyone familiar with—or nostalgic for—Mac's original operating system.
The line of coasters, napkins, tea towels and place mats come in both black and white sets or in color, with a variety of 8 bit-esque patterns that render as waves, confetti, rain drops, or lightning bolts.
In the product description, Areaware notes that weaving and computers aren't actually as incongruous as you might think:
Kare designed this set of textiles for the Jacquard loom, an early example of computer-controlled machinery, operated with punched cards and invented by Joseph Jacquard in 1801. This line of fine textiles celebrates the parallels between weaving and pixels; both rely on the idea of a grid spread across the surface of a medium.
Kare—who is currently a product design lead at Pinterest—talked to Co.Design about creating a physical product:
[I]t was really appealing to have the chance to combine digital patterns with a more traditional end product," she says. "I happen to enjoy cooking and entertaining, so it was especially interesting not only to work with fabric, but to create something I would use."
Products range in price from $10 for a set of four coasters to $54 for four placemats.
Kare's original Mac sketches on graph paper were acquired by the MoMA in 2015.