Tal & Lisa's Salvaged Santa Barbara Home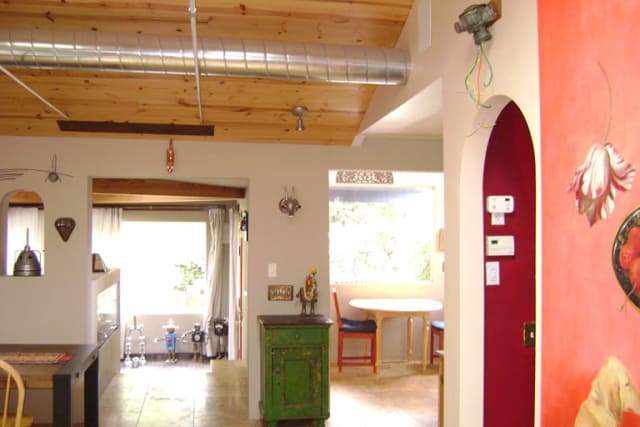 Who Lives Here: Tal and Lisa
Location: Santa Barbara, California
Tell us about this home: The designer and remodeler of this home is a former yacht builder now constructing custom homes on an island in Maine. The goal was to make this home as nice as we could on a limited budget, and to have fun in the process. What's amazing about the house is how friends contributed their various skills to help create a peaceful retreat that's hard to leave. Outdoor spaces are an extension of the living space--from the outdoor kitchen to the shower, the indoor rooms flow naturally to those outside. Color, light, texture and unexpected whimsy are all important features...
Total utility bills are less than $100 per month year round, thanks to compact fluorescent and LED bulbs, large windows for natural light, drought-tolerant plants, water-saver shower heads and low-flow toilets. Outdoor spaces were made with recycled bricks and stone. Even the plants were gathered from other yards where they were being discarded. The inlays in the concrete countertops are a combination of brass, copper and bronze objects from metal scrap yards, as well as collected stones and ammonites. The kitchen backsplash is recycled copper sheeting also from the metal scrap yards. Salvaged marine parts were used for kitchen cabinet and gate handles, curtain rods, robe hooks, windows and light fixtures.
The house and yard are filled with sculptures and assemblage pieces made from recycled materials created by several California artisans. The old gardening shed has been repurposed for use as a workshop, filled with interesting bits of salvaged metal which Tal uses to create his own recycled art. Lisa has a stained glass studio in the backyard as well. Mancha, the blind German Shepherd dog that Lisa and Tal are fostering, keeps the property safe from the roaming raccoons, possums, skunks and coyotes in the eight-acre open space behind the house.
Despite needing to deal with the occasional nuisance (gophers, termites, raccoons, rodents, etc.) it sure is a nice place to spend some time.
Thanks, Tal and Lisa!