Tara's Before & After Photos: The Jewel Box Glimmers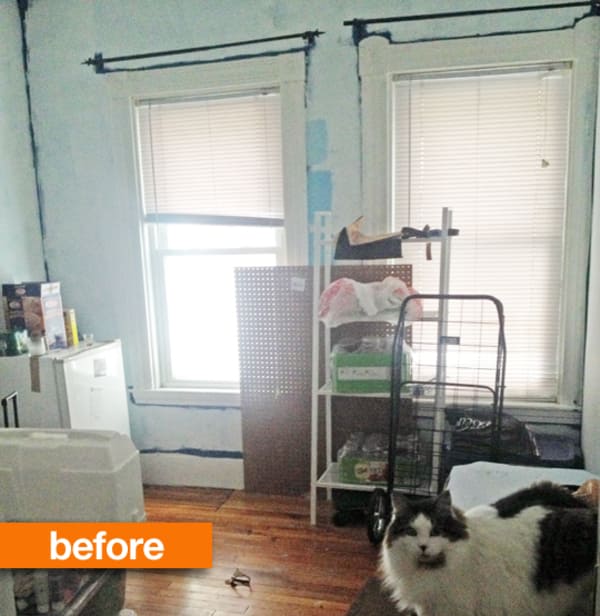 I can't even believe my room used to look like this. Dante the cat may be judging me in the before photo, but he's currently snoozing on the chaise behind me, obviously thrilled to shed on a new piece of furniture. The curtains are done and I have a glass of rosé waiting for me, so check out my jewel box!
IT NO LONGER LOOKS LIKE A HOBO CAMP! I lit the candles and hung the art two seconds ago, and it's already my favorite space. It's exactly what I was going for — the perfect place to meditate, work, craft, and host overnight guests (on an air mattress).
I had my share of setbacks though, especially surrounding the curtains. My sewing machine broke and needed to be replaced, and then I had a long and hard battle with IKEA curtain wire. I'd say it was a draw; the wire is sagging in the middle because I couldn't get the tension I wanted. Eventually, I'd like to have someone (NOT ME) rehang it. For now, push-pinning the drapes to the lefthand wall is fine by me.
Though there's been a huge change, the jewel box still isn't quite done. I need some art or a mirror above the desk, a better task lamp (this one belongs on my nightstand), a new desk chair (also borrowed from my bedroom vanity), a floor lamp by the chaise, a new fixture for the ceiling light, and some photos for the frames.
Here's my source list:
• Paint: Benjamin Moore Passion Plum
• Trim: Glidden Bright White Trim & Door Oil Paint
• Chaise: from a friend
• Desk: Blu Dot x Fab Strut Table
• Desk chair: Boomerangs
• Bookshelf: IKEA Expedit
• Flokati rug: Rugs USA
• Pouf: Overstock
• Curtains: Home Accent Fabrics by Ronnie Gold Kathmandu from Zimman's
• Art: Garage Sale
• Closet curtains, magazine basket, wastebasket, and throw: Marshall's
• Gold cat: DIY project
• Desk lamp: Robert Abbey Orbit desk lamp (discontinued)
• Photo frames: One Kings Lane
• Marble table: Craigslist
Thanks for following along! How did your room turn out?
MORE OF TARA'S STYLE CURE:
• Tara's Painting Progress: The Jewel Box Goes Purple
• Tara's Project Progress: Sewing Practice & Fabric Reveal
• Tara's Shopping Trip: It's Time to Stock Up On Paint Supplies!
• Tara's Project Research: DIY Curtain Overload
• Tara's Paint & Pairing: Passion Plum & DIY Curtains
• Tara's Floor Plan: Digital & Analog
• Tara's Before Photos: My Room is an Oversized Outbox!
• Tara's Treasure Hunt: My Purple Period
• Tara's Interview: Quirky Meets Classic Glam
(Images: Tara Bellucci)