Target Is Selling Holiday-Themed Cat Scratch Towers
We
independently
select these products—if you buy from one of our links, we may earn a commission. All prices were accurate at the time of publishing.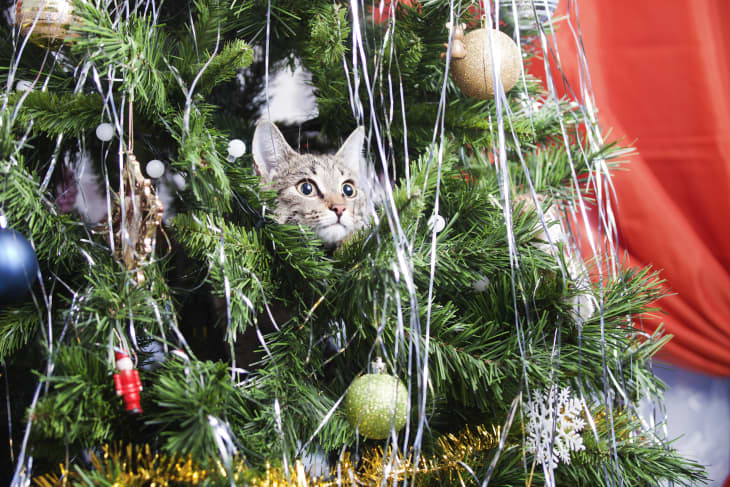 If your cat is the type to climb Christmas trees and scratch wrapped presents to bits, Target is helping you divert chaos with a collection of adorable holiday-inspired cat scratchers available through its Wondershop. This year, Target released six new cat-scratch towers and houses that each are themed after the holidays, so not only will your cat have a place to sharpen their claws and hang out, but you'll also have a cute holiday decoration (that you might want to keep up all year round).
The collection includes four standard-size corrugated cardboard cat houses and two double-decker scratchers, all of which are satisfying for your feline to both scratch up and snooze in.
The Double Decker Holiday Tree scratcher is the tallest of the bunch, standing at just under 25" tall. It has two spots for kitties to lounge in, and is floored with that rough-surface cardboard cats love so much.
The holiday version of Target's classic RV cat scratcher is a single-story pad decked out with a Christmas tree and twinkle lights—and the cut out windows make it look like kitty is driving.
This stacked presents double decker is another towering option. Standing at just under 20", it looks like a pile of presents just waiting to be opened, and it might just keep your kitty away from the actual presents under your tree.
Or, if you're looking to save space, this single present scratcher is small yet still gives you cat the perfect space to stretch out their paws and then take a much-needed nap (they live hard lives, people).
So, whether you're diverting your cat from ruining Christmas or rewarding them for making Santa's nice list, these holiday-themed cat scratchers at Target will certainly be adored by the furry feline in your life.