Swifties Are Loving These Taylor Swift-Inspired Candles
We
independently
select these products—if you buy from one of our links, we may earn a commission. All prices were accurate at the time of publishing.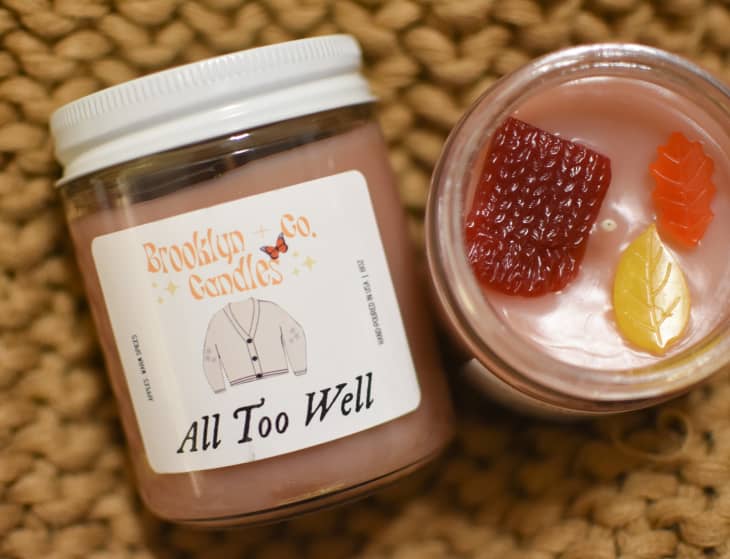 Founded by Brooklyn Gilbert during the COVID-19, the company offers candles inspired by some of the world's most loved pop stars and TV shows. Brooklyn + Co Candles began with a Harry Styles-inspired collection, before branching out and adding more lines, including "Stranger Things", Olivia Rodrigo, and of course, Taylor Swift.
"My mom used to make candles just casually as a little side hustle when I was younger, so she still had a lot of her candle making materials," Gilbert said on the beginnings of her business. "She mentioned one day that I should just try to make a candle and see if I like it, and I finally took her advice and I posted about it on my Instagram. A few local friends reached out [to buy a candle] and on the first day of making , I sold out! I realized that if I utilized this craft right, I could really make something out of it,"
The Taylor Swift collection features candles inspired by popular songs from Swift's ten studio albums, including her most recent release "Midnights". Gilbert says that the "Midnights" line and the "All Too Well" candle are customer favorites.
When it comes to choosing her scents, Gilbert says that she will listen closely to the lyrics and meaning of the song to determine what fragrance will suit best.
"For instance, with the "All Too Well" candle, Taylor mentions in the song 'autumn leaves falling down'," explains Gilbert. "So I went with an autumn harvest fall scent with leaves and, of course, a red scarf on top,"
Since starting the business, Gilbert has seen unprecedented success. Previously working as a florist, she was able to quit her job and pursue her passion project full time. She credits social media for helping her business grow, with viral TikTok videos playing a huge part.
"TikTok definitely has helped my business grow especially in the early months of my business. Social media marketing is an amazing tool that I encourage every small business owner to utilize," she notes. Even though it can be very aggravating at times when your videos or posts aren't taking off or getting the traction you think they deserve or used to get, all it takes is one viral video and before you know it you're getting hundreds of orders!"
Brooklyn + Co. Candles are priced at $12.95 for an 8 oz. jar. Shipping is available worldwide.