14 Thoughtful Gifts for Your Kid's Teacher (That Aren't Starbucks Gift Cards)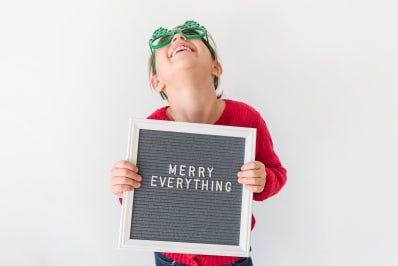 (Image credit: Alison Winterroth/Stocksy)
Though we should be thanking and showering our kids' teachers with praise on the daily—sometimes right before holiday break is the only time we really get to slow down and remember to show our thanks.
But the thought process of gifting for your child's educator usually goes like this: "I know my child can be a handful. I'm exhausted by just the one, so I imagine their teacher feels that way times at least 24... Starbucks gift card and cute mug it is!"
While this is a tremendously thoughtful gesture, many times you're not the only parent who has come to this conclusion. "I know teachers who still haven't used all their Starbucks cards from last year," says Molly M., a preschool aide in Illinois. Allison S., an educator in Pennsylvania adds, "Definitely no mugs!"
In order to combat caffeine fatigue, I've asked my network of friends and family who work as teachers—as well as their colleagues—what they'd actually like to receive before holiday break this year. True to the unselfish nature of educators, the majority of teachers I heard from said that they'd love to receive gifts that benefit their students (but wouldn't mind a little R&R if that was on the table). Here, 14 gifts on their wish list this year:
Store Gift Cards, any denomination
The one resounding thing teachers actually want? Gift cards to use for needed supplies and treats for students throughout the year. The top two preferred stores were Amazon, for its large selection and quick shipping options, and Target, for its decorative selection and physical store location.
(Image credit: The Popcorn Factory)
Treats, prices vary
Consumables are always a perfect gift—either to munch on at home or to share with the class for a sweet treat. Popcorn in a tin (like a two-gallon variety tin from The Popcorn Factory starting at $26) is a welcome snack.
School Supplies, prices vary
Many school districts don't have the funding for school supplies—so they frequently come out of the teacher's own pocket. Half of the teachers I heard from requested supplies for their classrooms as a gift this holiday. Lend a hand by sending along a classroom kit like this highly-rated one available on Amazon for $30—even if all the supplies aren't used this year, they will help out students in the years to come.
(Image credit: Mark & Graham)
Pencil Cup and Pencils, prices vary
Here's a good idea for a gift that benefits your child's teacher and their students: Gus G., a teacher in the San Francisco's Bay Area, says he'd like extra pencils to give to students throughout the day. Why not pair a pack of great pencils—there's no fault going with classic Ticonderogas ($15 for a box of 60)—with a monogrammed pencil cup—like this sophisticated option from Mark and Graham (starts at $8).
Teachers read a lot out loud during the day—let them have their turn being the listeners for once by gifting an Audible subscription for a few months. Sarah F., an elementary school teacher in Brooklyn, New York, would always love a couple of audiobook credits—they allow her to prep for her beloved monthly book club and relax, all at the same time.
Something that will always bring a smile to an educator's eye? The first super-satisfying streak from a brand-new Expo marker. At least according to Amanda A., a high school teacher in Kansas City. These puppies aren't cheap—so teachers will usually milk them for all their worth. Set their new year off right with a set of multi-colored markers—the lucky teacher and their students will thank you from saving them from the signature squeaking that comes from writing with a marker that has seen better days.
This one is all for teachers—treat them to a nice tipple after a long night of grading with a set of fancy cocktail mixers. We especially love this trio of smoky cocktail syrups.
Colored Pens for Grading, prices vary
Speaking of grading papers... it's an experience that needs color! From heightening encouraging notes in the margins to softening the blow of missed points, teachers like adding a little vibrancy to pencil-marked papers when they grade. Gus G.'s prefers Pilot's FriXion erasable gel pens ($10 for a pack of seven)—a necessity for keeping on top of changing lesson plans and snow day schedules.
(Image credit: Paper Source)
From encouraging notes to students to write-it-or-forget-it reminders throughout the day, educators have ample need for a perfect place to jot something down. Make these little notes a lot more special by gifting your kid's teacher a set of their own personalized notepads. (And hey, it might even take the edge off any disciplinary notes your child receives for the rest of the year.)
Know a class full of voracious readers? Send their teacher a subscription from Kids BookCase Club—they'll thank you for introducing a new favorite (because we'll bet they can recite "The Day the Crayons Quit" from memory now). Gianna M., an elementary school teacher in Chicago, Illinois, puts "books for students" at the top of her holiday wish list. Each month, the classroom will receive three new age-appropriate books (the subscription has plans for infants up to age 12).
(Image credit: Ticketmaster)
Though summer may be months away, teachers are already thinking of how they're going to spend their time off. Help send them to their favorite events with a Ticketmaster gift card. Kate M., a high school Spanish teacher in Illinois, definitely would love any help supporting her love of live theater!
Hats and gloves, prices vary
It's not going to get warmer any time soon—and that means there are more chances for lost hats and gloves to ruin recess. Help your kid's teacher make sure everyone is warm during play time by helping to provide extra hats and gloves for students who need them. Grab a few multipacks of gloves (these run three for $4) next time you're at Target, and toss in a pack of hats ($23 for a 12-pack) with your next Prime shipment.
(Image credit: ClassyRoom)
Motivational posters, $10
Sometimes teachers need a little help communicating to their students when words fail them. Amanda A., says she wants cool motivational posters for her classroom this holiday season. Download the files from Classy Room's Etsy shop, send them to the printer (or print them yourself), and pop each of them in a frame to give to teach before winter break.
(Image credit: Spafinder)
Spa gift card, various denominations
Okay, we went and saved the best for last—if you really want to give something that gives back to your child's teacher, try a gift card from Spafinder. Kate M. and Sarah F. both mentioned that a gift card to a local spa for a massage was the best thing they've ever received from a student.
Apartment Therapy supports our readers with carefully chosen product recommendations to improve life at home. You support us through our independently chosen links, many of which earn us a commission.