Tech Lover's Guide: Chicago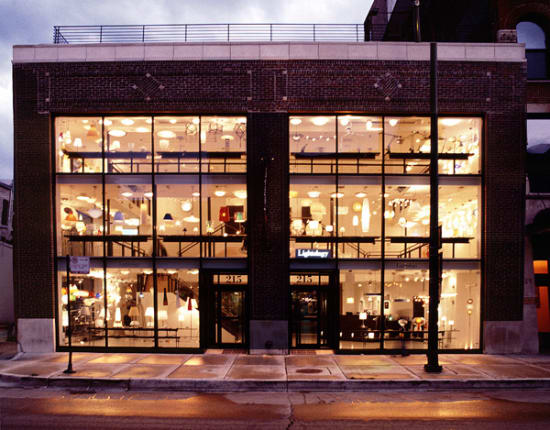 Chicago has lots to offer electronics and tech shoppers, like one of the country's largest lighting showrooms and a store dedicated entirely to robots. Chicago may not be as cutting-edge as cities whose economies are closely tied to tech, like San Francisco or New York, but it's the kind of place that has lots of small, independent shops, each with their own idiosyncratic personality.
Bucktown / Wicker Park / Ukranian Village
Dusty Groove America
This record shop on Ashland Avenue is a go-to source for DJs. They carry turntables, needles, and other equipment, but the main attractions are the stacks and stacks of records.
Rotofugi Designer Toy Store & Gallery
Not exactly a tech store, but definitely worth stopping in if you love designer toys. Owned by the husband and wife team of Kirby and Whitney Kerr, they offer the latest in underground toys — including many from Kidrobot, Domokun, and Gloomy Bear.
Calumet Photo
Their slogan, "where the pros go," is pretty accurate. This camera and equipment store has an extensive selection and well-informed staff. Their main location is east of Wicker Park (across the expressway), at 1111 N Cherry Ave.
Gold Coast
The Apple Store
Most major cities have them, but they're always fun to visit when you're scoping out tech. Chicago has one on the Magnificent Mile, on the city's main shopping strip. Pick up an iPhone case or a new set of speakers, then check out all the nearby shops.
Flight 001
A must-visit store for anyone who travels a lot, they have multiple locations throughout the country, including a shop on North State Street. Look here for designer laptop bags and portable tech, like cool-looking alarm clocks.
Bang & Olufsen
They're a Danish company that makes mod speakers, laptops, flatscreens, subwoofers, and integrated A/V systems. It's all very sexy, very shiny, and very expensive. Check out their Chicago showroom on North State Street.
Museum of Contemporary Art Store
Adjacent to the MCA, this store carries designer clocks, gadgets, and accessories from brands like Kikkerland, Alessi, and Droog. They also have a well curated bookstore on the second floor.
Lakeview
Robot City Workshop
This store describes themselves as "a sanctuary for lifetime tinkerers and an asylum for all those robot fanatics!" They have every type of retail robot available, from Roombas to make-your-own robot kits.
Loop
Helix Camera and Video
This is one of the country's largest independent camera retailers, and it's been in Chicago since 1963. They have several locations in the city, including a main flagship store at 310 S. Racine in downtown Chicago.
River North
Luminaire
Apartment Therapy blogger Janel calls this store "the Chicago temple to fine contemporary design." It's pricey, beautiful, and focused on furniture, but you'll also find accessories by high-end tech and lighting designers like Naoto Fukasawa and Sebastian Wrong.
Lightology
If you're into designer lighting, this store is the place to go. They're the largest importer and distributor of contemporary lighting in the US, and their Chicago store is a glass-walled building enclosing 15,000 square feet of showroom space.
Suburbs and Other Neighborhoods
Fry's Home Electronics
Fry's is to electronics as Costco is to food/home items — a warehouse-sized source for tech. Like most Fry's, the suburban Chicago Downer's Grove location is huge, cheap, and out of control.
At Work Design
Designed to look like a streamlined workspace, this Forest Park store is a great resource for modern home office furnishings and gadgets. Graphic designer Julia Archer has a mission to "balance high quality, affordability and style with maximum flexibility and function."
American Science & Surplus
There are a ton of science-inspired gadgets at this Jefferson Park store: everything from labware to high-end telescopes. They also carry random tech parts and toys — it's a great shop for novelty gadgets.
Abt Electronics and Appliances
Located in the suburb of Glenview, ABT's showroom is a vast and venerable resource for anything that falls under the "electronics" or "appliances" umbrellas. They have a reputation for good customer service and reasonable prices.


This list is just a beginning - we hope you'll help us fill out our Chicago tech guide.

• Do we have an address or listing wrong? Send us an email and let us know!
• Have we missed your favorite Chicago tech store? Send us an email and ask us to add it to the guide!

Photo: Lightology Showroom in River North, Chicago