Tech Lover's Guide: New York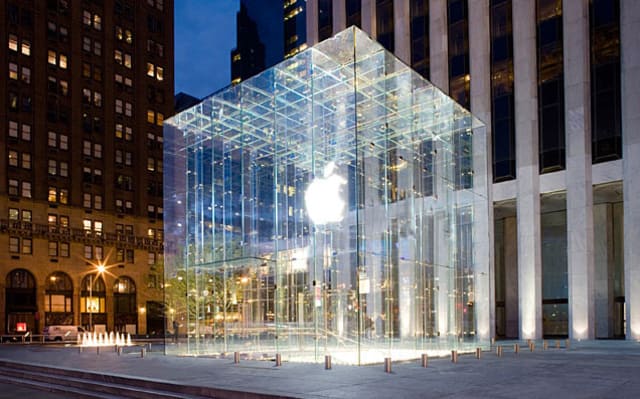 In New York, you can find a great hole-in-the-wall vintage tech shop or an electronics megamall that covers a whole city block. Depending on what you're looking for, here are some of favorite places to shop for tech in the Big Apple (dumb pun intended).
Apple Store
The Fifth Avenue Apple Store (which opened in 2006) is an iconic location. Designed to look like an empty glass box, the top of the store seems to hover over a below-ground retail center. It's open 24 hours a day, 365 days a year.
Bang & Olufsen
They're a Danish company that makes mod speakers, laptops, flatscreens, subwoofers, and integrated A/V systems. It's all very sexy, very shiny, and very expensive. Check out their NYC showrooms in Soho, Midtown, Union Square, Kips Bay, and the Upper East Side.
Bose Showcase Store
Located in the Time Warner Center, this showroom is sleek and stylish — it kind of resembles a Bose Wave system. They sell the full line of products, including headphones, home theater systems, and sound docks.
Dijital Fix
Located in Williamsburg, Brooklyn, this hipster store calls itself "the Designer Electronics Boutique." They carry home audio speakers, turntables, MP3 systems, headphones, lighting, storage and miscellaneous tech gear all curated to look good as much as sound good.
Flight 001
A must-visit store for anyone who travels a lot, they have multiple locations throughout the country, including a shop in Greenwich Village. Shop here for designer laptop bags and portable tech, like cool-looking alarm clocks.
Game Stop
They call themselves "the world's largest video game retailer," and they carry both new and used consoles and games. They have 69 (!) locations in the New York metro area, but their flagship store is on 14th Street in Union Square.
J & R Electronics
This is a huge chain that advertises themselves as "a megastore with the personal touch of your local retailer." Their flaship store on Park Row in Manhattan is a megamall of electronics that covers an entire city block. They sell everything from TVs to vacuum cleaners to gaming systems.`
MoMA Design Store
Not your average museum shop, they carry a surprising amount of designer tech at their 53rd Street flagship store. Look for lighting, clocks, and gadgets — all lovely to look at and created by high-end designers and artists.
MUJI
With locations in Times Square, Soho, and Chelsea, and outposts at the MOMA Design Store and JFK, Muji is easy to find. Their minimalist Japanese style is well suited to lovers of simple, basic tech, and the prices are reasonable.
Mxyplyzyk
Located in Greenwich Village, this store is a "quirky mix of well designed but affordable items gathered from around the world." They stock lighting, clocks, toys, barware, phones, mats and much more at every price point you can imagine (though most prices are smaller than a breadbox).
Nintendo World
"A gaming paradise in the center of New York City." That's what this Rockefeller Plaza store calls itself, and it's definitely worth a visit if you're a huge fan of Wii, POKeMON, Super Mario Brothers, or any of the other major Nintendo brands.
PC Richard & Son
What began as a small hardware store is now a chain of 42 locations in Manhattan, Brooklyn, Queens, Long Island, New Jersey, and Connecticut. They sell the whole gamut of electronics—from kitchen appliances to vacuums to computers and digital cameras.
Waves L.L.C.
Run by the husband and wife team of Bruce and Charlotte Mager, this Chelsea store has an entirely satisfying selection of refurbished 20th century items, from Elvis Presley-style microphones to Bix Beiderbeck-style record players, to Western Electric 302s, conveniently refitted with modular jacks.


This list is just a beginning - we hope you'll help us fill out our New York tech guide.

• Do we have an address or listing wrong? Send us an email and let us know!
• Have we missed your favorite New York tech store? Send us an email and ask us to add it to the guide!

Photo: Apple