Tech Tour: Andy & Heather's Geek Chic Living Room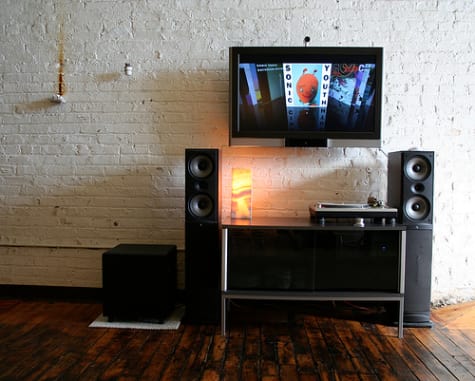 Name: Andy & Heather
Location: Rental Loft, Bushwick, Brooklyn, NY
Years Lived In: over 3 years
What's your philosophy on how to integrate your technology into your living space?: Transparently and passively.
Geek chic. Andy and Heather carefully constructed their Brooklyn living space, thinking not only about what media they used, but how they used it. They carefully designed a system and chose their products with care and consideration for their needs. You won't find any television watching here, but you will find a media room that would make any movie buff or audiophile smile.

The display connects to the Mac mini, and is mounted flush to wall, sitting just a few inches out and secured to the brick wall. The mini is also connected to the receiver via a mini TOSLINK (a high-quality optical audio connection.) The quiet external hard drives offer space for all of their music and media, and the ever important file backup.

Do you have an idea for a tech tour? Let us know! hometech@apartmenttherapy.com
Griffin's PowerMate provides a powerful scrolling controller, which they use for searching through media with Apple's Coverflow or through video itself. The media center doubles as a calling station with the addition of a iSight webcam. This clings magnetically to the back of the display when not in use, or to the top of the display when in use. The microphone still works well when hidden, and voice calls and room recordings can be made throughout the room. Vinyl is not forgotten as an important media source with the addition of a
Stanton Discmaster
for greater fidelity. They also rip from vinyl through their receiver connected to the mini.
Every purchase was carefully considered, and they often turned to friends and family for assistance. We bought the display and mounting hardware at J&R, weaseling out of sales tax by shipping it to Andy's folks' place in Jerz, then driving it back into the city. We bought the mini online with Heather's educational discount. Andy bought one drive from Other World Computing and built the other in an identical NewerTech enclosure (also from OWC) with a spare drive he had laying around. The PowerMate was a small payday gift to ourselves. Andy bought the iSight off his brother's roommate after they had been discontinued, and traded his bike to his best friend for the turntable. The receiver, speakers and subwoofer were all hand-me-downs from Heather's generous, stereophile father.
Favorite Feature: Andy: Its size
Heather: The absence of television; it sounds self-righteous, but letting go of TV is the best thing we ever did for our mindspace. We haven't lost time to "what's on" in over a year, although we still have relatively easy access (via bittorrent, iTunes and Netflix) to the few things we truly want to watch.
What Friends Say: That they wish we lived closer to Manhattan
Best Advice: Andy: Be a materials/craftsmanship nazi.
Heather: Listen to aura: objects have long memories; they always carry vestiges of the life they led before they found you.
Dream Source/Inspiration: Andy: The future, willfully imagined
Heather: The past, carefully curated
Favorite Source: Friends, family and each other; gifts, bequests, hand-me-downs and the self-made tend to be the most loved objects.
Biggest Challenge: Getting electricity where we need electricity to be
Biggest Embarrassment: The cabinet under the display—the last piece of Ikea/MDF in the house
Proudest DIY: Andy: Our sail walls—it took us a while to work out the best way to divide up all this space.
Heather: Restoring the timber posts—one of the filthiest, most toxic and exhausting jobs we've ever undertaken.
Resources:
Westinghouse LVM-37W3 LCD Video Monitor - 37", 1080p
Sanus System VM1B VisionMount LCD Wall Mount
Apple Mac mini - 1.66GHz Intel Core Duo, 2GB 667MHz DDR2 SDRAM, 60GB HD
NewerTech miniStack v2 - 500GB HD - Music, Photos, Movies
NewerTech miniStack v2 - 120GB HD - Backup
Apple Wireless Keyboard and Mouse
Griffin PowerMate
Apple iSight
Sherwood RVD-6090R AV Receiver
Technics SL-1200M3D Quartz Direct Drive Turntable
Infinity Reference 2000.6 Speakers
Infinity BU-2 Subwoofer
Apartment Therapy supports our readers with carefully chosen product recommendations to improve life at home. You support us through our independently chosen links, many of which earn us a commission.