Peek Inside a 408-Square-Foot Tennessee Tiny House for Sale That Sleeps 6
We
independently
select these products—if you buy from one of our links, we may earn a commission. All prices were accurate at the time of publishing.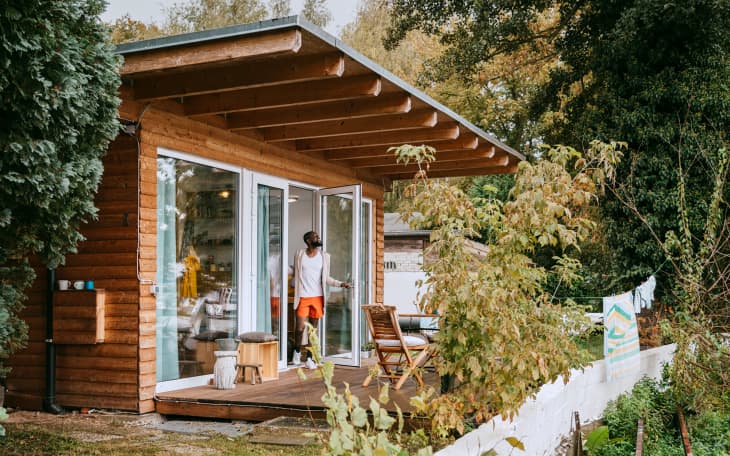 Tiny homes tend to be a budget-friendly option for home buyers who want to make a place their own but don't want or need a ton of space. One Tennessee tiny house for sale is flipping that notion on its face, making it the upscale space for anyone who wants something new and stylish yet still small and cozy.
Part of the Designer Cottages by Berkshire Hathaway, the 408-square-foot charmer was built as a private residence on the lake in Tracy City, Tennessee, for real estate agent Chip Hayes back in 2020, and it's now on the market for a cool $569,900. If you can get past the sticker shock, you'll love everything this lakefront property has to offer, including room to sleep six, state-of-the-art appliances (including a washer and dryer), quartz countertops in the kitchen, and so much more.
Hayes told Realtor.com he was inspired by childhood vacations when creating the home with architect Jeffrey Dungan, wanting his own kids to experience that analog way of life for a change. "Our company, The Retreat by Oakstone, started developing tiny-home communities in 2019, and the demand has been staggering," he shared. "This property is a concept I came up with years ago, based on some of my best childhood vacations."
"The beauty of the time we spend with one another involves hiking, fishing, and sitting by the bonfire roasting marshmallows," he added. "It's refreshing to take a trip together and not have the kids asking for iPads or phones."
Nestled among a 95-acre lake, the home is situated in an ideal spot — especially because noisy gas boats aren't allowed nearby. "The lake does not allow for any gas boats, making it very peaceful and scenic," Hayes said. "The home is stunning and has all the amenities you would ever need, but the focus is less on its size and more on the experience."
The buyer will also get a comfy back patio with ample seating, lakefront fire-pit access, and a fully furnished interior, which means you can move right in without additional worry or cost. Although this "designer cottage" is certainly on the higher end of the tiny home spectrum, cost-wise, it seems like a dream landing spot for anyone looking to downsize without downgrading in any way, shape, or form.