Thanksgiving Day Done Stylishly on Rue La La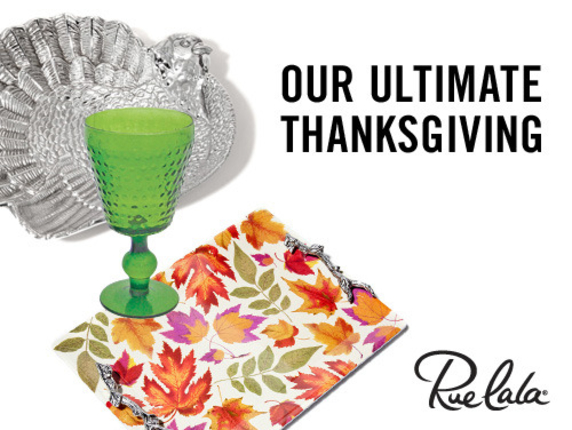 With November 24 rapidly approaching, we couldn't have been more thrilled to discover an expertly curated Turkey Day Boutique on Rue La La (our go-to online destination for a life of style).
Their team of in-the-know buyers have handpicked their must-have items for the holiday (right down to the turkey and the table linens) and placed them all in their limited time Ultimate Thanksgiving Boutique (opens October 27 at 11AM ET).
From the chicest dinnerware and delectable side dishes, to the rustic harvest decor and dining room furniture - Rue La La is easily making this Thanksgiving your most stylish one ever!
So how does it work?
Rue La La is a great first stop for home trends and inspiration. Members (you have to be one to shop) find themselves addicted to signing in daily at 11AM ET (when most of Rue La La's limited-time Boutiques open their doors) to find out the latest and greatest offerings of the day.
Get access and start shopping for these limited-time Boutiques at private sale prices. Click here for your exclusive invite!
Rue La La's Ultimate Thanksgiving Boutique opens October 27 at 11AM ET.
Comments have been disabled.