The 10 Commandments of Buying Vintage Rugs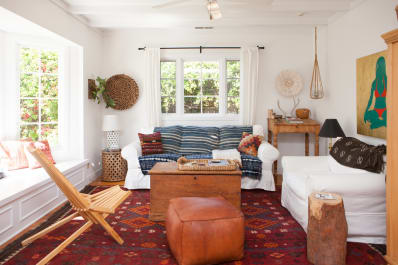 (Image credit: Sarita Relis Photography)
Antique and vintage rugs were once reserved just for your grandmother's house, but the look is one that has gained tremendous steam in the design world. Floorcoverings from past decades (or centuries) really add character and warmth to even the starkest of modern rooms, though it's not uncommon for it to be the most expensive item in a space. Depending on the quality, a purchase-worthy vintage piece could range from a couple hundred to a couple thousand bucks (sometimes even tens of thousands). If you love the look but need a little guidance, all you need is a little tenacity, a lot of patience, a dash of flexibility...and our 10 commandments for finding the best vintage rug for your home.
To get technical, vintage rugs are classified as anything that's 25- to 50-years-old (any older and it's a certified antique), and if you find one made with integrity and the right materials, it could last for centuries. While an antique or vintage rug could have you flinching and reaching into your 401K (okay, definitely do not do that!), you'll be surprised to know that there are tons of options that won't; you just need to know what to look for. Start here and take notes before you go on your next hunt.
1. Thou shalt set realistic expectations
Before even beginning your search for the perfect vintage rug, it's important not to have your heart set on a particular image you might have seen in a magazine or on Pinterest. You don't want to reduce your opportunities to an idea of something you may never find, because it's likely what you're seeing was one-of-a-kind, and your hunt will only end in design heart break. The vintage market is varied and the options are unpredictable, so be prepared to go with the flow and end up with something totally different than expected, but just as beautiful. What may help, however, is to narrow it down to a rug aesthetic—tribal, traditional or geometric—or color family.
2. Thou shalt watch like a hawk
You really want to trust who you're dealing with, so whether you're buying online or through a dealer, make sure that the business or individual comes with good recommendations/reviews. Do your due diligence and comparison shop, asking all the questions you need. If shopping on eBay, make a watch list—and we mean a giant one. Pro tip: Don't bid until the last minute, otherwise you're just contributing to driving up the price. If you want to offer to buy it now, follow the same idea. Wait until the action is nearly over.
3. Thou shalt look for a proper patina
When putting money down for a vintage rug, look for even wear. Finding a vintage rug in perfect condition is akin to locating a needle in a haystack, so inconsistencies that are balanced is what makes a vintage rug so desirable (and valuable). In other words, aim for a one that has been worn in in a uniform manner, like the above vintage Anatolian from Galerie Shabab, so no one place is exceptionally more thrashed than another.
4. Thou shalt forget loose ends
The hardest parts to repair on a vintage rug are the edges. Once an edge starts unravelling, it's hard to stop it and soon you'll end up with a spool of thread where there once was a beautiful border. Not only that, but it's the most expensive and intensive part of a rug to repair. So don't bring one home that's going cost you more time and money than it's worth to get back to a decent vintage state. That being said, if you're ok with the tattered look and the price is bargain barrel, feel free to break the rules now and then (just know it's not an investment at that point.)
5. Thou shalt look for handmade signs
While there's nothing wrong with machine-made rugs and carpets (they are far more affordable), if you're looking for something with an artist's touch, look for signs that a rug is handmade. For starters, a handmade rug will not have a backing on it, rubber or otherwise. These rugs are woven on a loom through a series of warps and wefts, so you'll see the same design on the front of the rug as on the back.
6. Thou shalt seek out quality materials
A good rug is made from good resources, plain and simple. Handspun wool and silk will have a certain luster to them, unencumbered by dull artificial materials. To determine if something is silk, pull a small strand from the rug and burn it. If it shrivels and produces that burnt hair smell, you've hit the jackpot.
7. Thou shalt go against the grain
Once you find something handmade, consider opting for a design that's asymmetrical and imperfect like the above vintage Moroccan rug from Loop. Such a motif reflects the artist's hand and the fact that he or she was likely creating the design as they wove. Tribal and nomadic weaving styles are super coveted and serve a greater purpose than just being a floorcovering—they're a statement reflective of the community they were woven in and are extremely hard to replicate.
8. Thou shalt forgo patches
Don't be scared of holes. After all, the distressed aesthetic that started on the West Coast has now moved its way across the rest of the country, lending that relaxed and casual vibe to spaces one by one. That said, do not go home with a rug that's already been repaired. A big, giant poorly executed patch will do nothing for appearance or long-term value. Remember, that vintage rug will someday be antique!
9. Thou shalt clean it properly
The general rule of thumb is that rugs should be washed every two to five years. Don't use an electric vacuum on a vintage rug; the suction is far too aggressive. Investigate having a vintage rug hand-washed or tumbled by a professional or pick up a non-electric carpet sweeper. If that can't be done, a broom with straw bristles will do the trick. Also avoid situating your rug where it might receive prolonged sun exposure. And finally, never, ever put a potted plant on top of a rug, else you might end up with a hole in the shape of a perfect circle when you pick the plant up months or years later.
10. Thou shalt live with what you love
If you can't find one, there's nothing wrong with a reproduction. After all, you're the one living with it, so find something that makes your heart happy every time you see it (whether it's a valuable investment or not!)
Apartment Therapy supports our readers with carefully chosen product recommendations to improve life at home. You support us through our independently chosen links, many of which earn us a commission.