The $10 Essential You Need to Bring on Your Trip, If You Care About Your Clothes
We
independently
select these products—if you buy from one of our links, we may earn a commission. All prices were accurate at the time of publishing.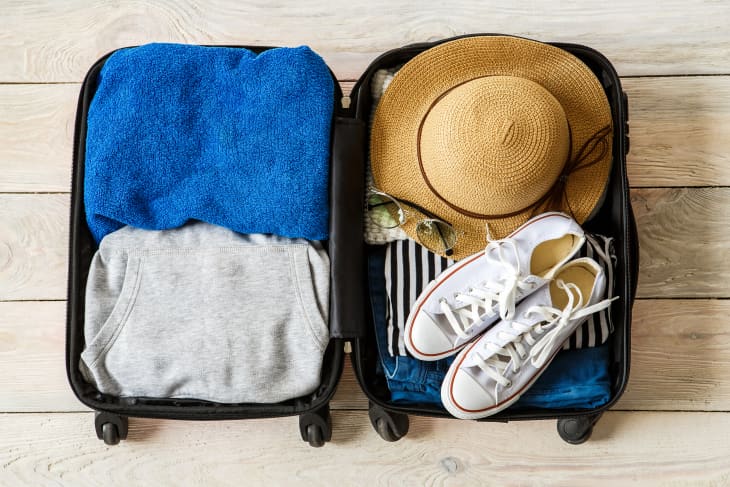 A couple weeks ago, I was staying at a tiny Airbnb while attending a destination wedding. The studio apartment-turned-Airbnb had everything from a tiny coffee machine to silverware to shampoo and conditioner. Plus, it was a fraction of the price of a hotel. It was near perfect. But it was missing one tiny thing: hangers.
Turns out, you really never think of clothing hangers as important until you don't have any to use at all. I found myself wishing I had brought some myself. But who has time to fit three days worth of clothes plus a couple hangers in one carry-on suitcase? Not me. Enter: Foldable hangers. Yes, foldable hangers.
These little guys have more than 140 reviews and an average of 4.5 stars on Amazon. The tri-fold hangers obviously would be perfect for travel—imagine air-drying clothes from branches when camping, or steaming clothing in the hotel shower on-the-go. But they also are great for another reason you might not be thinking about yet. Have you ever moved and suddenly found yourself trying to squeeze hundreds of hangers into a trash bag, only to have them all poke through the plastic? Or store them in a box only to have, like, five of them fit half way in the box? Yeah, it's a nightmare. However, these foldable hangers are solve that problem in no time. They're much easier to store and don't poke through bags and boxes. 
Another benefit that the Amazon page mentions? The hangers fit baby clothes when folded halfway up, and fit adult clothes when folded out. If you're expecting a little one, that means these hangers can transition and grow with your baby. No need to buy teeny baby hangers at first, and then bigger ones a few years down the road. 
If you are looking for even more ways to use these hangers, simply consult the Amazon reviews. One user notes that they bring them on cruises because staterooms never have enough hangers (as a frequent cruise-goer myself, I can confirm this is true). Another writes that they're perfect for using on a sailboat and provide the option to lock an item to the hanger so it doesn't blow away in the breeze. 
If you're still not convinced, one more benefit of the hangers may convince you to add them to your cart—these come with a 100 percent money-back guarantee. If you try out these hangers and they're just not doing it for you or your clothing, you can send them right back and get a full refund for up to 30 days. No questions asked.
So if you have a cruise, Airbnb stay, or sailboat trip coming up (I'm jealous already), and you don't want to take the risk of not having enough hangers, these might just be worth trying.