Bold Colors Meet Mid-Century in an Arizona Townhouse
We
independently
select these products—if you buy from one of our links, we may earn a commission. All prices were accurate at the time of publishing.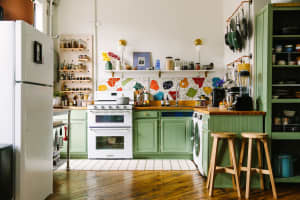 Can't-Miss House Tours Straight to Your Inbox
Keep up with our latest house tours each weekday with our House Tour of the Day newsletter
Name: Lalita Adkins
Location: Phoenix, Arizona
Size: 2,2000 square feet
Years lived in: 5 years; Owned
Five years ago, Lalita moved into her husband's townhouse while they were still dating. Before she got her hands on it, she says it was a bachelor pad, with occasional traces of the ghosts of girlfriends past. As a lifelong design lover, Lalita recognized the possibilities in the unique and open layout of the home.
Her search for the home's architect was fruitless, but there are some clues to suggest it could be a Ralph Haver. Whoever the designer is, the home is a beautiful example of mid century design.
The Adkins' style is anchored in the idea that a home should be an ever evolving space that doesn't need to be finished now, if ever. "Almost every time I clean I change something around, or I'll add colors that are hot at the moment. Even if it's just flowers." They spend most of their time in the master bedroom, a serene space with no clutter. Lalita likes to surround herself with the things she loves, but can't stand a muddled look, so she'll continually rotate in a few select curios from the cabinet in the living room. One of the product lines she reps, Cab Deco, affords her the opportunity to add new occasional chairs when the mood strikes her.

They also adhere to the philosophy that waiting to find the ideal piece of home decor is far better than settling on a cheaper, instant solution. "When you buy stuff all the time, it's so hard to justify the purchase of that perfect thing when you finally find it. Like a really cool rug… it's a thousand dollars, but we can't afford it because we bought all these cheaper ones we thought we needed at the time." The Adkins understand they have a lifetime to adorn their surroundings, and that wisdom has helped them craft a truly lovely home, and one I look forward to watching evolve.
Apartment Therapy Survey:
My Style: I'd like to think it's The Golden Girls meets the Eameses, but mostly it's just a combination of our styles and the things we've collected that we've tried to bring together in a way that makes sense to us, and feels like home. I try not to make things too fussy, but it's hard because my style is definitely a moving target, hard to pin down, changing from one week to the next.
Inspiration: All the bright colors of Mexico and India. My mother, and her sisters, who all have strong personal style, and take so much pride in decorating and improving their warm and colorful homes.
Favorite Element: Our lush interior atrium that is the heart of the home, and connects the adjoining spaces of our living room, dining room and office
Biggest Challenge: My husband and I are both pack rats, and despite having tons of closet space, it seems like our personal collections of stereo components, half-finished inventions, tools, instruments, tchotchkes, bags and clothes always seem to burst into our living areas.
What Friends Say: Everyone loves the large open layout, and all the old finishes that we don't have the heart to remove, like the canary yellow enamel kitchen sink, our 60s bathroom tiles, wire glass shower doors, anodized gold mullions, funky bright laminate, and our sunken master shower that has a huge picture window that opens up to hanging vines and bright flowers.
Biggest Embarrassment: The pedestrian looking ceramic tile that dominates much of the downstairs. It's sad that my husband was talked into removing the original 8″ x 8″ white saltillo that was installed, to replace it with a tract home looking product.

Proudest DIY: The refurbished and rewired $4 chandelier that hangs over our dining room. When it came into our lives the patina was practically black, there were no crystals, and it was likely a fire hazard. My husband and I worked together to find vintage crystals, and I boiled the individual arms and pieces that we took apart in vinegar to remove the patina. He masterfully ran brand new wiring through the lamp. Lastly, I hand twisted all the bronze wire to hold the crystals and attach them to the lamp. I know it looks like everyone else's brass chandelier, but to me it looks like our little work of art.
Biggest Indulgence: Our new wooden floors in our master bedroom, stairs and upstairs.
Best Advice: Don't rush into any purchases or remodeling projects. You'll know when the piece is right and the time is right. I think it takes years to acquire a collection of pieces you love, and that have meaning to you. The best ideas evolve over time. Love your home and it will love you back!
Dream Sources: Ligne Roset, 1st Dibs, ABC Carpet & Home, Artemide, Antique Stores in the middle of nowhere
Vintage Sectional
Tropical silk pillows from West Elm
Vintage mirror from Copper Country in Tucson
Helen Frankenthaler print
Agam print
Curio cabinet from Zinnias in Phoenix
Rotraut sculpture
JBL speakers from Phoenix Metro Retro
Eames rocker from DWR
• Flee market find DIY refurbished chandelier from Spain
• Vintage Herman Miller Eames molded fiber glass chairs
• One Glass technopolymer chair with ash wood legs from Pedrali available through cabdeco.com
Corian countertops
Vintage Bertoia chairs
intage tulip table base
Premium Glass mosaics in Iridescent Ivory
California Classics hand-carved hardwood engineered flooring in the Pismo Beach color
Couch & side chair from Crate & Barrel
Vintage gramophone – gift from husband's grandparents
Mercury glass floor lamp from Pottery Barn
Glass bedside table lamps from Retro Ranch in Phoenix
• HOUSE TOUR ARCHIVE: Check out past house tours here.
• Interested in sharing your home with Apartment Therapy? Contact the editors through our House Tour Submission Form.
• Are you a designer/architect/decorator interested in sharing a residential project with Apartment Therapy readers? Contact the editors through our Professional Submission Form.
*Tour previously published