The Amazon Reviews For This Expensive Candle Are Priceless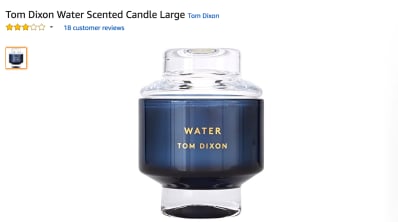 (Image credit: Amazon)
While useful when deciding between vacuums or whether that book is as good as everyone says it is, Amazon's customer reviews can also be a true source of hilarity and joy. For the Tom Dixon candle in Water, the category is the latter, and they have us drowning in tears of laughter.
As if to inspire satire, the product description reads:
Water lends its understated blend of watermelon and amber musk to deliver the sharp clarity of maritime freshness in your home. A celebration of the bare essentials, this scent collection is inspired by the medieval alchemist and eastern philosopher's quest to reduce all matter to four simple elements. Captured in a striking, almost sculptural glass vessel, each candle appeals on a multitude of sensory levels.
In what must be one of those weird algorithm side affects, the price on Amazon is currently $430, a full $21o more than the candle from Tom Dixon's site. It appears that at one point, the same candle was listed for closer to $700. One reviewer points this out:
I found this on the Tom Dixon site for $220 but I'm sure that one must be a counterfeit candle. Obviously, this one is the real deal because it's so much more expensive. I mean, let's get real, if you don't spend around $700 on a candle you're not going to be happy. Anything under $650 is obviously complete junk.
This reviewer expects reality show reunion behavior amongst the scents:
But then everything changed when the Fire candle attacked
And then this epic one paints a picture of someone who might drop $430 on such a product:
Every Tuesday we serve Baja-style tacos from an authentic Airstream in our back yard, and if there's one thing that detracts from the post-taco reverie whilst reclining in authentic Spanish peasant chairs it's the onset of digestive distress. My wife insists on only the finest unpasteurized, hand-rendered raw milk products for the queso blanco, typically having spent the week before aging the rennet in our restored 1920's clawfoot bathtub. Unfortunately, more delicate constitutions can find the virtual water slide of bacteria a bit much to handle at first. Klaus ruined a mid-century Hans Wegner chaise less than a minute after enjoying his first vegan shark queso diablo, an unfortunate event that almost caused me to drop my gold iPhone while capturing the plating for Instagram. Since then we only use seating that can easily be hosed down. We purchased and placed a dozen Tom Dixon Water candles throughout the Airstream to effectively neutralize any unpleasantness, and find that they do an exceptional job of simulating the actual smell of real "water."

While my initial thought was that the shipping cost was a bit excessive, it was actually hand-delivered by an artisanal mail carrier with a glorious beard in wood-sided vintage mail truck. So win-win.
Now, we are big fans of Tom Dixon's work, and we are no stranger to expensive bougie candles, and are not here to judge if splurging on a beautiful home fragrance is your thing. But we also recognize that dropping three figures on something you burn is the epitome of privilege.
Now Klaus, have you seen the artisanal mail carrier?
Apartment Therapy supports our readers with carefully chosen product recommendations to improve life at home. You support us through our independently chosen links, many of which earn us a commission.