The Art of Living: Lessons on Hustling and Giving Back from a Very Cool Woman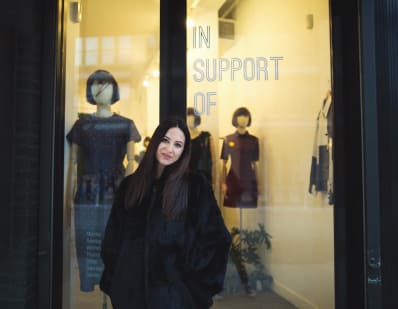 (Image credit: Tanya Sheik)
Tanya Sheikh is inspiring on many levels. Driven by her own love of art and fashion and fueled by a desire to promote diversity and broader opportunity, Tanya and her business partner Ivan Gilkes opened In Support Of—one of the most well-regarded boutiques in NYC—a clothing showroom and retail concept that carries innovative indie designers and donates a portion of its profits to charity. Check out Tanya's life as a business owner and take a look at her Park Slope studio.
The name of the boutique—In Support Of —works on two levels: As a showroom, Tanya and Ivan focus on carrying diverse designers who are creating exciting, quality work but who do not yet have the name recognition or funding to obtain prime retail space in NYC. In Support Of offers that rare opportunity. The name also refers to the fact that Tanya and Ivan are dedicated to collaborating with non-profits and charities and donate a portion of their profits to causes they believe in. When I found out about In Support Of through fashion-minded friends, I was genuinely moved by the deeply-rooted altruism that suffuses Tanya's business model, which is no small feat considering she's navigating the fashion industry in one of the fashion capitals of the world. So I knew I had to meet Tanya and find out how she runs her business, what inspired her to start In Support Of, and to see where a super cool woman like her lives! (Spoiler alert: Park Slope).
Name: Tanya Sheikh
Job: Co-owner of In Support Of
What brought you to NYC?
Fashion! As a fine arts major in college, I always knew I wanted to work in the fashion industry, but I thought it would be as a designer.
(Image credit: In Support Of)
How did you become the co-owner of a clothing boutique in Manhattan?
Fortunately for me, it was a very organic process. I came to NYC jobless, but was determined to start my career here. I worked as a sales associate for a small boutique in Brooklyn. The position turned into an assistant buyer/manager role, and there my fascination for helping clothing brands get into stores grew. I knew immediately from this role that I wanted to make this my career, so I took a leap of faith and went for it! In 2008 I landed the showroom manager position at one of my favorite NYC stores/showroom—OAK. Their showroom closed in 2009 and it left me without work. A few days after being laid off, I was approached by jewelry designer Jules Kim of Bijules, and she was the one who inspired and motivated me to start my own showroom. I had some reservations at first because I knew it was not financially possible, but she allowed me to set up my showroom in her cooperative space on Canal St. The following season I was approached by two designers I represented while at OAK, Nomia and Heutchy, and my work took off. I met Ivan Gilkes a few years later through a friend and we decided to work and grow In Support Of together.
What advice would you give someone venturing into small business ownership?
Never give up! Once you believe in your idea and your business, just keep hustling until you make it. I would highly suggest making sure your finances are in order beforehand. When I started the showroom, I only had $1,000 in my bank account, but was just extremely determined. Being broke leads to a lot of struggle and you have to be an extremely strong-willed person to make it through.
(Image credit: Tanya Sheik)
What was behind your decision to donate a portion of store profits to charities and non-profit organizations?
Every summer, from elementary to high school, I went to Pakistan to develop my drawing skills from my paternal grandmother and aunt, who are very well-known artists in Asia. I was very fortunate to grow up in an affluent Pakistani family, but the juxtaposition of my family's wealth and the extreme poverty surrounding us did something emotionally to me as a child. I made it my mission in life to support causes I believe in and fight for the rights of all children. There are so many talents in our youth, and I feel it's a duty of all people to give underprivileged youth a voice and the resources to pursue their dreams and refine their talents.
(Image credit: Tanya Sheik)
So your life experiences have really shaped your professional decisions...
Definitely. I started college at the University of Massachusetts Amherst and then transferred to Providence College on an art scholarship. While there I was really taken back by the lack of diversity and how this beautiful gated college was positioned in the center of a very poor neighborhood. To me this reflected my times in Pakistan growing up. I reached out to the local community library and began to teach an after school art class to some of the youth in the neighborhood. I wanted the children to know that it was possible to attend the gated college that they were brought up to think was not in their cards and that I was on their side. I pressed the art department to allow me to host a gallery night in the new art center, where I mounted my students' work and set up the brand new gallery with their art. I organized a bus to bring the students into Providence College to meet art professors and art students. Seeing their faces light up when walking into the art gallery and seeing their work on the walls has stuck with me to this day and I am motivated to help more youth see their full potential.
What is a typical workday like?
There is no typical work day! I am wearing so many different hats, from business to creative to event planning, that my days are pretty planned out but none are like the other, which I love!
Tanya's Life at Home & Her Park Slope Studio
How did you find your place?
My best friend Audrey found it for me. I HATE apartment hunting and she was generous to line up a few appointments for me one day and I got good vibes from this one.
What do you love most about your place?
There is a lot I love about my apartment. I love to cook so the kitchen is just awesome and spacious. I never thought I'd live in a studio, but now I love how open it is and I feel it's super romantic. Oh and my bathtub is pretty dope!
Anything you wish you could change about it?
I wish it wasn't in a high rise building. I never thought I'd live in one of them, but I love my apartment so much that I tend to forget about it.
What does a good night at home involve?
Cooking, listening to music, taking a long bath, and sleeping!
Any favorite meals you like to cook at home?
I love making curry dishes of all types, but I love to experiment in the kitchen with anything and get creative. I think of cooking as art!
What is your favorite belonging and the story behind it?
My Persian rugs. My parents own a rug store in Northampton, MA called Zephyr Rugs and they gave them to me at different times in my life and they each symbolize a different milestone.
What are some favorite spots in Park Slope?
I love Prospect Park because it has so many different trails that you can get lost on. It's where I go to feel like I am in nature, away from the city. al di la Trattoria
is my favorite restaurant. It's one of the best Italian restaurants I have ever eaten at and I eat out quite a bit!
What music is on at home these days?
I am a huge fan of 90's and early 2000's R&B and rap, but I also love jazz. Lately I have been listening to a jazz musician that was like a second father to me and that passed away a couple years ago named Ralph Morgan.
Thanks, Tanya!