The Best Halloween Movies to Stream Right Now on Netflix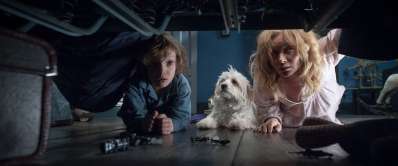 (Image credit: IFC Films)
Some may argue that haunted houses, hay rides and costume parties are the best part of Halloween, but deep down, we all know that sometimes all you need is a night in with friends, some popcorn (and candy) and your Netflix password.
Need some movie inspiration? These movies will definitely get you into the Halloween spirit—whether you prefer classic scary stories, terrifying new thrillers, or the cute-but-creepy, there's something for everyone.
The Babadook (shown above)
If you're looking for the scariest movie possible, take a page from the book of William Friedkin, the director of The Exorcist (a movie I'm still too afraid to watch) who says The Babadook is the most terrifying movie he's ever seen. Stephen King has also called it "deeply disturbing."
(Image credit: Warner Bros.)
Practical Magic
If you haven't already watched this classic '90s flick, run—don't walk—to your TV to tune in ASAP. Starring Sandra Bullock and Nicole Kidman, Practical Magic is a story about a family of witches, the importance of sisterhood, and, well...maybe a little bit of murder (sort of), too.
(Image credit: Paramount Pictures)
The Addams Family
You (should) already know the story—they're creepy and they're kooky, mysterious and spooky, etc.—the 1991 comedy is a must-watch Halloween movie based on the cartoon that originally came into publication in 1938.
(Image credit: Warner Bros. Pictures)
Corpse Bride
This 2005 stop-motion animated movie from Tim Burton is perfect if you love mixing creepy and cute. Corpse Bride is a love story, but it's also a story about the undead. Bonus: It's a musical, so you can sing along if you want to.
(Image credit: Paramount Pictures)
Sleepy Hollow
Another spooky classic from Tim Burton, Sleepy Hollow tells the story of the Headless Horseman as the police investigate a series of mysterious murders in 18th century New York.
Scream 2
The original Scream isn't available for streaming on Netflix, but you can catch up with some of the original characters—and a copycat Ghostface killer—in this sequel which takes place a year later.
(Image credit: New World Pictures)
Children of the Corn
Speaking of Stephen King, this 1984 horror film about children who are enticed by an evil entity to kill adults is based on a short story of the same name by King—so if you haven't seen it yet, you know it's bound to be horrifying.
(Image credit: 20th Century Fox)
The Fly
If you want to take it back to something truly classic, 1958's The Fly is a sci-fi horror movie about a scientist who accidentally mutates into a human fly while testing out a transportation machine. It's not exactly scary, but it's weird enough that it totally works for Halloween.
(Image credit: Miramax/Metro-Goldwyn-Mayer)
The Amityville Horror
It's not the original, but the 2005 remake is still worth the watch. Well, it's worth the watch if you like stories about families moving into houses where mass murders once took place. It's also good if you want to watch Ryan Reynolds chopping wood.
(Image credit: Universal Pictures)
Jaws
Prefer your scary movies without ghouls and goblins? Jaws and all its sequels are on Netflix, complete with all the suspense you love—and sharks, which, to be honest, might be scarier than any horror movie villain ever dreamed up (after all, they are real.)
(Image credit: Magnet Releasing)
Tucker & Dale vs. Evil
If you like your horror with a huge side order of comedy, Tucker & Dale vs. Evil—about two hillbillies who get mistaken for killers by a bunch of college students—might be the best option for you.
(Image credit: Artisan Entertainment)
Bonus: The Blair Witch Project
Technically this is on Hulu, not Netflix, but it's scary as hell so I'm including it anyway (although mostly what I've learned from this movie is that the real horror is being stuck in the woods with two men). Do yourself a favor and turn the captions on—nothing will break the creepy tension more than reading the words "eerie hooting" across the bottom of your screen, I promise.