The Best Time-Saving Laundry Gadgets You're Not Using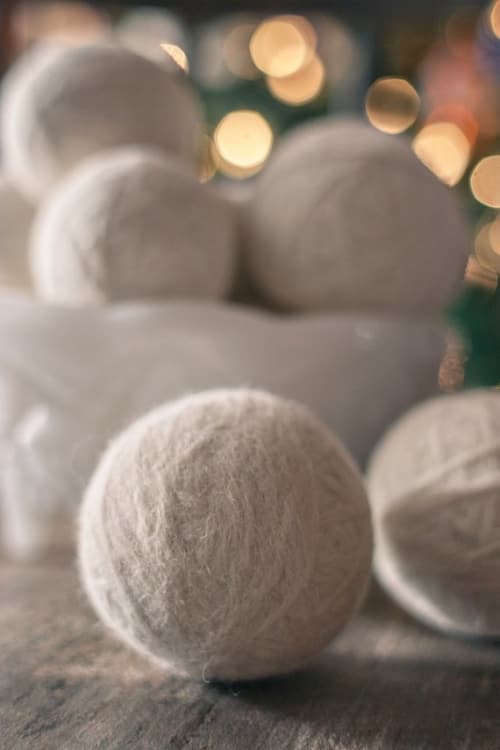 My favorite part of laundry day is when it's over, so I'm always looking for ways to make doing the wash a little less of a chore. Here are five little gadgets that help me pick up the pace in the laundry room.
1. Dryer Balls: Throw these felted wool balls into the dryer to separate wet clothes as they tumble, helping them dry faster with less stress on the fabric. Hint: a clean tennis ball works too! Above, Wool Dryer Balls from Etsy; $20.00.
2. Handheld Steamer: When you don't want to drag out the ironing board, a portable steamer is amazing for smaller jobs or delicate fabrics. It heats in 30 seconds if you need to quickly touch up your outfit on the way out the door. Above, the Rowenta Ultra White Handheld Steam Brush from Target; $29.99.
3. Sock Clips: It's a laundry cliché, but so true: sock pairs never emerge without a few missing soldiers. Sock clips prevent losing individuals, but also save time in sorting your socks back into pairs later (my personal nightmare). Above, Sock Cop Clips from The Container Store; $8.99.
4. Salad Spinner: Thou shalt never wring out your delicates! The rough treatment will negate the care you took by hand washing them in the first place. As a final step, give them a spin (just like the spin cycle of your washer) to get them partially dry. This also prevents the stretching that can occur when you hang a sopping wet garment. You may want to pick one up specifically for the laundry room so you don't have to share with your salads. Above, the OXO SoftWorks Salad Spinner from Amazon; $37.45.
5. Sweater Drying Rack: It may seem unnecessary — you do have a towel and countertop, after all — but a drying rack really is one of those tools that makes hand washing your sweaters miles easier. The circulating air cuts the drying time in half so you can wear your favorite sweater that much sooner. Hint: store your drying sweater in the tub in case of drips. Above, the DAZZ Pop-Up Sweater Dryer from Amazon; $14.98.
- Re-edited from a post originally published February 15, 2013 - DF
Apartment Therapy supports our readers with carefully chosen product recommendations to improve life at home. You support us through our independently chosen links, many of which earn us a commission.