Fans of 'The Crown' Loved This Moment in Queen Elizabeth's Christmas Message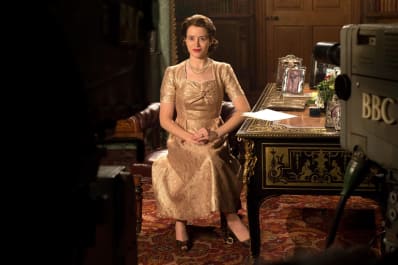 (Image credit: Netflix)
Earlier this week, the world watched Queen Elizabeth's annual Christmas message. It's been quite an eventful year, and the monarch touched upon everything from the Manchester bombing and the Grenfell fire to her 70th wedding anniversary to Prince Philip. But fans of Netflix's The Crown—which came back for season 2 earlier this month—were feeling some deja vu. [Some spoilers ahead.]
In the second season's fifth episode, entitled Marionettes, the palace is lambasted by a journalist for being out of touch with the people. In an audience with the Queen, he makes some suggestions, one of which is to televise the Christmas message.
That first TV broadcast was on Christmas Day 1957. So here's how the Queen marked the occasion:
Sixty years ago today, a young woman spoke about the speed of technological change as she presented the first television broadcast of its kind...Six decades on, the presenter has 'evolved' somewhat, as has the technology she described.
They played a portion of the 1957 message, which The Crown had recreated for the closing scene of the episode. Twitter was on it:
Nice of the Queen to reference Claire Foy like that #TheCrown #QueensSpeech

— Kirsty (@KirstyH83) December 25, 2017
Queens speech or The Crown Season 2? #TheCrown #QueensSpeech #LoveIt

— Lewis Malka (@lewismalka) December 25, 2017
The #QueensSpeech counts as a #TheCrown spoiler don't @ me.

— Justin Stayshyn (@UnionSt) December 25, 2017
In terms of other big news, Her Majesty didn't mention soon-to-be-duchess Meghan Markle by name, but she did reference her (and Will and Kate's expected third child) as she talked about her long marriage to Prince Philip:
I don't know that anyone had invented the term platinum for a 70th wedding anniversary when I was born. You weren't expected to be around that long. Even Prince Philip has decided it's time to slow down a little, having, as he economically put it, "done his bit." But I know his support and his unique sense of humor will remain as strong as ever, as we enjoy spending time this Christmas with our family, and look forward to welcoming new members into it next year.
Meghan spent Christmas at Sandringham this year with the royal family—a departure from tradition, as her relatives are all in the States.
You can watch the Queen's full Christmas message below: