The Easiest Way To Update Your Holiday Decor This Season, Courtesy of Chip & Joanna Gaines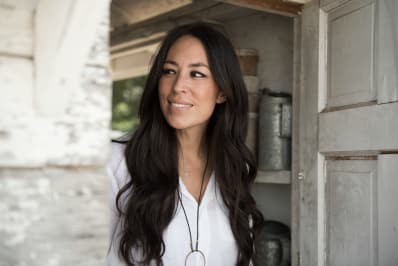 (Image credit: Courtesy of KILZ)
Though their popular HGTV show Fixer Upper is officially coming to an end for now, there's no doubt that Chip and Joanna Gaines and their authentic country charm, too-cute-for-words family and never-ending home transformation ideas will continue to be a big part of our lives. One of the ways they're already bringing beauty into your home is through a furniture and accessories line and paint partnership with Kilz, Magnolia Home by Joanna Gaines Paint.
A full palette of hues with names like Lemony, Antiquing, Refinished, and of course, Shiplap, are at the cornerstone of Joanna's premium Interior and Chalk Style paints. Chip and Jo swear by it—calling paint the greatest tool they use in a renovation which also delivers the biggest bang for your buck—and the goal with Magnolia Home was to simplify the palette for their fans so that you too can feel empowered, inspired and confident to let paint choices redefine your home.
Check out what Chip & Jo had to say when we sat down with them in New York City to talk through Christmas décor, paint dos and don'ts, and how to make a vintage or upcycled piece totally one-of-a-kind:
Do you have any quick, holiday hacks?
JOANNA: This is a tradition for us at this point, because my kids are at an age where they love to make their own hot cocoa. For me, in the kitchen, it's always like—what the heck?—how do I decorate the kitchen for the holidays without it feeling cluttered, but I always save this little space on the island where I put a tray and three glass canisters and this little sign that says "Hot Cocoa Bar." And I put the hot cocoa, the marshmallows, the little candy canes out, and every day after school, they do the hot water and make their hot chocolate, and that's just one of those things that I love seeing and miss at the end of the season because it's really cute, it's great décor, but it's also practical for guests."
What's a fun way to update your holiday decor in 2017?
JOANNA: I think it's fun to invest in smaller things for the holidays. I'll always have my good artificial wreaths, and garland that I use every year that you just need to rework a little bit, but this year, for under $50 bucks, I bought a lot of these little bottlebrush trees and it kind of added a little more color into the décor and the kids loved it.
I also love to collect antique Christmas story books. Most typically the red ones—which during the year, I don't do red as much—but I love having this collection of cute red Christmas books, Christmas stories, and Christmas carols. You can find them online, and it's fun and has a story behind it, and it's not your typical Christmas décor.
(Image credit: Courtesy of KILZ)
What's the biggest mistake people make with paint, both inside their home and out?
CHIP: They rush it…everyone's trying to find a shortcut for it! This is not a place where you want to rush, it's not a place where you don't want to do the proper prep. It's not a place where you don't want to do the proper cleanup at the end, either. I would rather you find that you allow 3-5 extra hours for paint than you initially meant for it.
JOANNA: And that's what people see for resale. If the paint job is bad, they then question the integrity of the rest of the project. I also think the biggest mistake is not doing enough homework and painting your whole room a color that doesn't feel right. If you do paint it on the wall, or you do the peel-and-stick, look at it for a week [at minimum] and make sure every time you see it that you love it more, or don't invest in it.
CHIP: With paint, let it marinate in your life for a week. My best advice is to slow down on the paint part because it's a very important part of the process.
Is there a room you've transformed—throughout your career or time on Fixer Upper—that's been emotional for you?
JOANNA: Any nursery I've ever done—to me, that was my favorite thing—because I didn't want to do your typical pink or blue. I wanted it to feel unique and set apart. I think with every kid—you know, obviously I had never met them—but just with their name, or what I feel like, I would just go with my gut and find these fun colors and they would become like that color. Like with Emmie's room—that lighter blue color is literally her personality, that was the color of her nursery, and so for me a nursery is personal and sweet.
Knowing that red is the color that makes you hungry…you probably wouldn't want to paint your kitchen red, right?
JOANNA: I mean, some people would do a red island—if you really love red—or do red accents, like red dishes. I love a red door on multiple colors of houses—it doesn't have to be a white house. I just love that red that has more of an orange hue to it. I also like to use red accents, and that's why I love the chalk-style paint, because if you really like red but don't want a red room that can be overwhelming for your family, you can just do a red console.
(Image credit: Courtesy of KILZ)
What are some of the vintage or upcycled pieces you might transform with the chalk-style paint?
I think beds are really fun. Do you see how ornate the detailing is on this bed (above)? Something about that ornate detail and then doing the paint over it and sanding it down, it makes it great again. I also love transforming consoles, armoires, buffets, and accent chairs are always fun too when it comes to paint.
Though you should certainly visit their massive home décor wonderland, Magnolia Market, if you're ever in Chip & Jo's hometown of Waco, TX, you can also find Magnolia Paint online or at these retailers across the U.S.