The Golden Girls Café is Now Open — And You Have to See Inside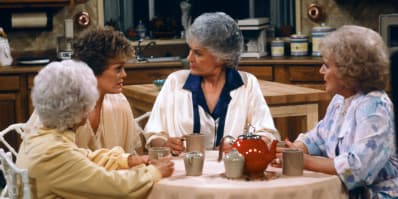 (Image credit: NBC)
If you've been bingeing The Golden Girls nonstop since Hulu started streaming all seven seasons of the series last week, we give you permission to hit pause and take a trip to Washington Heights. The much-anticipated Golden Girls-themed café is now open.
Rue La Rue Café was conceived by Michael LaRue to honor his friend, Rue McClanahan, who played Southern vixen Blanche Devereaux on the popular sitcom. According to the New York Times, LaRue met McClanahan at an animal rights charity event at Studio 54, and they became fast friends, with the star often jokingly asking LaRue to marry her so she could be Rue LaRue. Such a Blanche thing to do!
The café, which soft-opened a week ago, includes quite the collection of Golden Girls memorabilia, which LaRue received from McClanahan after her death in 2010. There's the pumps Blanche wore in the pilot episode, a collection of house coats and gowns on mannequins, and even McClanahan's 1987 Emmy for lead actress is on display. LaRue will rotate 220 pieces from her estate in and out of the space.
But it's not just a shrine to McClanahan—all of the Golden Girls are represented, as are their design choices. The bathroom incorporates tile that resembles their Miami pad. One of the tables, set in front of Blanche's favorite banana leaf wallpaper print, is a recreation of the kitchen set from the show—faux bamboo and all:
The space is full of nostalgia, and so is the food. The menu features nods to the show, like lasagna al forno and Genügenflürgen cake, as well as recipes from the cast, like Bea Arthur's chutney, Betty White's angel food cake, Estelle Getty's pasta salad. And what would be a Golden Girls café without cheesecake? CHOCnyc, a bakery in Inwood, created a cheesecake for each of the characters. They have their own coffee blends, too: Sophia's "Picture It" Sicilian Roast, Rose's St. Olaf blend, Dorothy's No-Nonsense Roast, and Blanche's Gentlemen Caller's Beans:
LaRue is co-owner of the café with McClanahan's son, Mark Bish. According to the Times, Betty White hopes to visit in the spring.
Rue La Rue Café is located at 4394 Broadway, New York, NY 10040.