The "Goodbye '90s, Hello Vintage Modern" Loft Makeover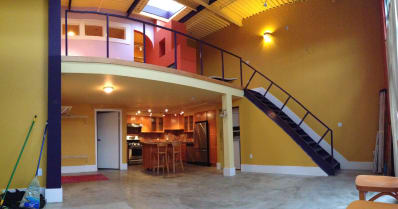 Renovation by: Team Macnab
Location: Vancouver, BC, Canada
Jordan send us some photos and info on a recent project. He writes: The Macnabs have recently come together with all their handy friends & family to create what they are calling a true "Vintage Modern" double height loft in Vancouver's industrial loft land. The Mecca loft building is located in Mt Pleasant's up and coming Brewery Creek district.
This 1350 sq/ft loft is one of the rare ones which includes; 2 bedrooms, 2 bathrooms, a roof top patio, a secret door to a hidden office, and a sweet view of Grouse Mountain. The feature wall, some of the light fixtures, the baby barn door and the dining table were all built of reclaimed barn board and customized by Jordan Macnab himself. All the appliances are Kitchen-Aid. The entire transformation took 6 weeks and was done with a max $50,000 budget. A huge DIY undertaking by team Macnab.
More about the project: Team Macnab
Thanks, Jordan!
• Are you interested in sharing a renovation project with Apartment Therapy readers? Contact the editors through our Renovation Project Submission Form.