The Home of E! Entertainment News Host Catt Sadler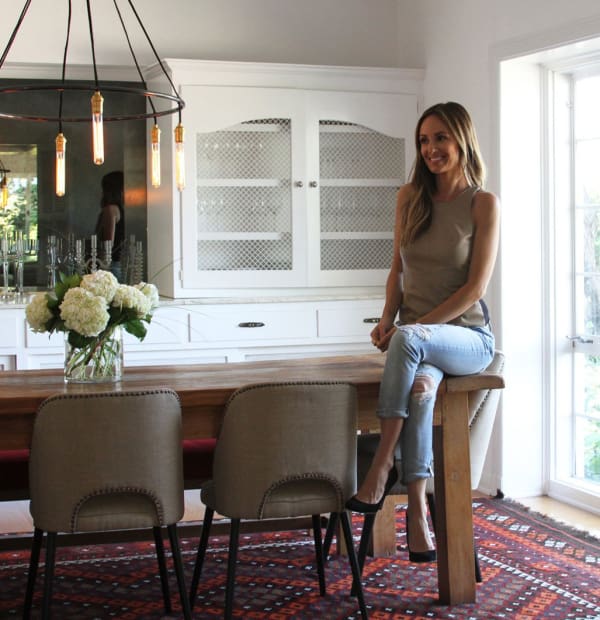 Name: Catt Sadler, Host of E! News Weekend — TV host, producer, actress and Instagram addict (@iamcattsadler)
Location: Hancock Park; Los Angeles, California
Size: 3,000 square feet
Years lived in: 1 1/2 years
The windows are my favorite highlight from Catt's home. Her house takes in that great Southern California light, with large windows in every room that look out to greenery that reminds you of the East Coast. She's even chosen to go without window treatments on a handful of the windows, which allows the unique architecture of the home to be a part of the interior aesthetic.
Catt and her husband are still working room by room on the design of their home. She's enjoying the process of interior design so much so that the thought of pursuing design after she retires is starting to sound like a great idea.
Because there is always a budget, Catt looks for flea market and secondhand finds or inexpensive pieces to pair with high-ticket items. Everything comes together in a really appealing way — there's no denying that her home has a beautiful harmony to it.
Apartment Therapy Survey:
Our Style: Easy elegance. A relaxed mix of modern and Mid-Century. The natural light throughout our home contributes to the vibe and is an influential part of the design aesthetic.
Inspiration: The home is a classic 1950s ranch, so the era has inspired the design in many ways. I gravitate to vintage pieces with a hint of retro in them. In this respect, I am attracted to sleek and minimal objects. But on the other hand, I like the comfort of big sturdy furniture. So it's really an amalgamation of both. Overall, I like stylish livability — nothing too fussy.
Favorite Element: The rear design of the house really lends itself to inclusion. I love that when I'm in the backyard near the pool, I can almost view every room in the house because of the large windows and floor-to-ceiling sliding glass doors. My son can be in his bedroom, my other son chilling in the family room, my husband slaving away in the kitchen, and the cats lounging in our bedroom - I can see all this activity from the back. It's a serene space that promotes a very peaceful energy.
Biggest Challenge: Truthfully, time. We've only lived here for a little more than a year. Career demands, mother and wife duties, and a blessedly busy social calendar don't allow much time for scouring flea markets or custom designing any of our furniture. I've had a few people consult with me on interior design, but in the end I know my own tastes best and just prefer to slowly do it myself.
What Friends Say: They say it "feels good." I think the natural light and openness of the floor plan gives it a zen quality. I don't over decorate, so the less is more approach makes our home feel light. This translates into a nice vibe visitors seem to enjoy!
Biggest Embarrassment: The kitchen needs the most work and has gotten the least amount of attention. The cabinets need to be redone, the drawers are old and barely open and close, and the stove barely turns on. Thankfully my husband is a stellar chef and makes the most out of the space for now. It ain't pretty, but it's functional.
Proudest DIY: Martha Stewart I am not. And while my hubby shines in the kitchen, he lacks in the handyman department. I suppose the photo collage above my piano is a project that turned out nicely. I inherited the piano from my late grandmother Freda and I framed an assortment of vintage photographs to display above it. You can see my mom and sister playing on the same piano as children, my mom and dad boarding horses together in the 60s, a few framed nods to impeccable Mid-Century design, and also the legendary Katharine Hepburn cruising with the top down circa 1953. I like this space — does that count as a DIY?
Biggest Indulgence: We're music fanatics, so we spent quite a bit on sorting our Sonos stereo system and Bowers&Wilkins speakers. We've now got stellar sound throughout the interior and even out back near the pool. I can DJ straight from my iPhone. Worth every penny!
Best Advice: Learn how to use a drill. (Now if I would just take that advice.)
Dream Sources:
Resources of Note:
ENTRY
Artwork - Son Arion's preschool doodles
LIVING ROOM
DINING ROOM
MASTER BEDROOM
Thanks, Catt!
(Images: Marcia Prentice)
• HOUSE TOUR ARCHIVE: Check out past house tours here.
• Interested in sharing your home with Apartment Therapy? Contact the editors through our House Tour Submission Form.
• Are you a designer/architect/decorator interested in sharing a residential project with Apartment Therapy readers? Contact the editors through our Professional Submission Form.
Apartment Therapy supports our readers with carefully chosen product recommendations to improve life at home. You support us through our independently chosen links, many of which earn us a commission.