NY House Tour: Jashiki and Philip's Urban Flow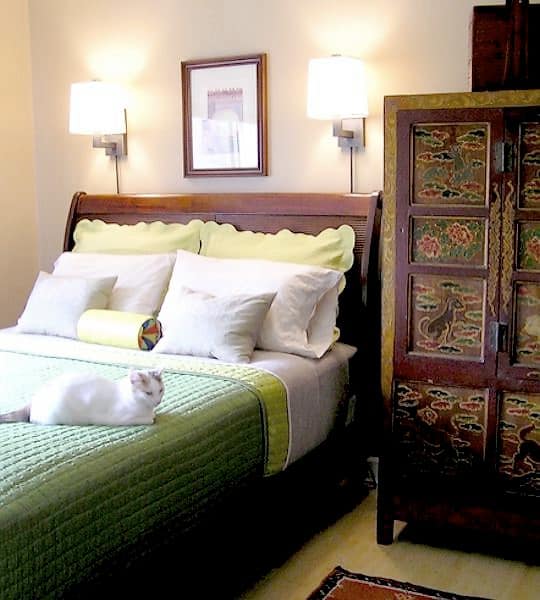 Name: Jashiki and Philip
Location: Harlem
Size: 1260 sqft, 2 bdrm coop
Favorite: Living room 'shrine'
>>
Jashiki and Philip recently moved to Harlem and are thrilled on all counts with their apartment and their neighborhood. They have learned the history of their area, and have found beauty in the architecture of the housing projects that span their urban landscape... Philip calls them 'solid and stately' and at night the lights form wonderful patterns, creating a localized invigorating horizon...
Jashiki, a textile designer at Calvin Klein, was confident of his ability to handle color and texture for the apartment, but made no claims to being an interior designer. Both he and his partner Philip read Maxwell's Apartment Therapy: The Cure, and then Jashiki followed up with Karen Kingston's series of books on Feng Shui and Space Clearing.
Inspired by both Maxwell and Karen, Jashiki became quite driven by the desire to create a home with great flow. He learned to redistribute energy throughout the house; to pull furniture away from the wall to create as many open spaces as possible; and both he and Philip learned to be diligent in warding off clutter.
House Tour Video!
The policy of the house is to bring in books or clothes on the condition that the equivalent is removed from the house. "The longer we live here, the more we are happy to get rid of things," admits Philip. If asked to choose between possessions and space, space wins.
As far as Jashiki's approach to design, he believes strongly in not overwhelming the viewer. This means that he curates monthly rotations of art on the walls, putting up only a few pieces from their collection at any one time. The colors for each room and for the apartment as a whole, are all of one tone, transitioning effortlessly from one shade to the next (see below for details). In that his training is Japanese textile focused, but his profession is very modern focused, he is sensitive to creating a balance between being overly minimal and overly 'ethnic.'
The master bedroom is a culmination of the harmony that Jashiki seeks. He says it bridges the feminine and masculine, as well as the ethnic and modern. Here, Jahiki employs eastern tapestries and painted furniture alongside modern bedding, while taking color cues from the giant maple tree in the courtyard of the housing project across the street!
Paint Colors:
Jashiki started with the Calvin Klein home furnishing palette from 2005, then toned it down and found perfect matches in the Benjamin Moore catalog
Indian River (985)
Danville Tan (HC91)
Dijon (193)
Shelburne Buff (HC28)
Each was ordered in a pearl finish and all are part of the 2B range.
Originally published May 10th, 2006
For all House Tours, click here!
Apartment Therapy supports our readers with carefully chosen product recommendations to improve life at home. You support us through our independently chosen links, many of which earn us a commission.