Discover The Kitchen of Terrestrial Mechanics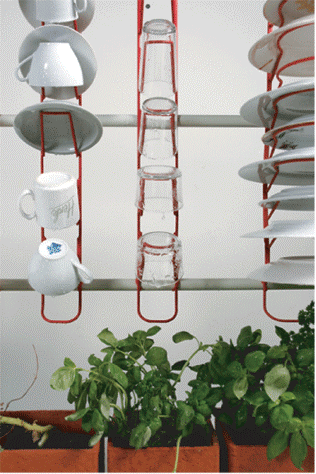 Stop waste by connecting the systems in your kitchen, says John Arndt (via 2Modern). The waste of one system becomes the fuel for another in the kitchen John created for this masters thesis.
• The water dripping from dishes on the drying rack waters the herbs.
• The plants also attract dust, keeping the dishes cleaner.
• Friendly worms in the "composter" turns table scraps into food for the plants.
We love the system of terra cotta Flow Jars …
Each container has multiple purposes: the large jar chills wine, keeps bread fresh, and works as a planter too. In a market that pushes specialized containers for ever job — like this slightly silly spaghetti box holder — we appreciate this fresh thinking on multi-purpose, stackable storage.
Culiblog explains it this way: "This may be the only kitchen you will ever meet that will miss you when you're gone and will wilt if you go away on an extended holiday, hungering for your return."
When traveling, we often long to return home to our kitchens. How poetic: a green kitchen that psychically hungers for us too.
Published: Oct 31, 2007