Is This The Safest City Bicycle Ever?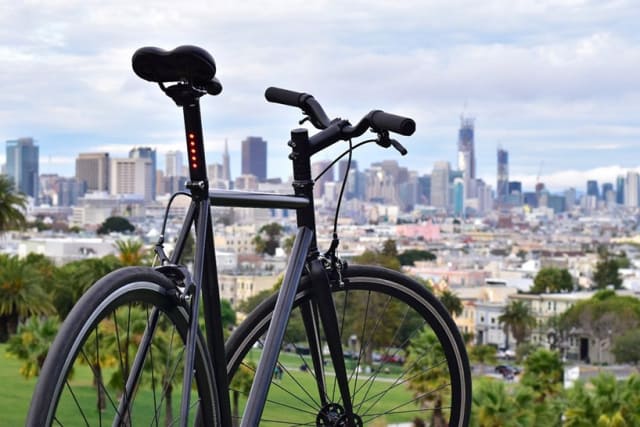 (Image credit: Mission Bicycles)
There are lots of hazards for urban cyclists out there, but one San Francisco company is looking to make owning and riding a bicycle in the city easier.
Have you ever had your bike stolen? You wouldn't be alone; in fact, in the US, it is estimated that 1.5 million bicycles are stolen every year, according to the National Bike Registry.
What about a run-in (or a near run-in) with a car while bicycling? The National Highway Traffic Safety Administration notes that 45,000 cyclists suffered road-related injuries in 2015. Let's face it, if you are a bicycle owner and rider, particularly in a major metropolitan area, it's likely you've experienced one or both of those things.
According to their website, Mission Bicycle Company seeks "to build the most beautiful, practical and customizable bikes on the market"—with an incredibly functional twist.
(Image credit: Mission Bicycles)
Mission Bicycle's latest release, The "Lyra," is sleek, simple, and might solve the problems that nearly every bike owner has had to deal with. Integrated GPS makes it possible to track your stolen bike via a custom app on your smartphone. The bike's integrated LED light system, another cool feature that adds function, makes for easy visibility on the road. High brightness LEDs have been placed inside the fork blades of the front wheel as well as the seat post. The removable battery can be charged using a micro USB; a single charge lasts approximately one month.
An embrace of urban living and an increase in cycling infrastructure nationwide has coincided with an increase in cycling's popularity. In southern California, for example, the California Transportation Commission just recently announced $56 million in grants towards projects for bike lanes and pedestrian-friendly walkways. While in cities like Minneapolis and Portland, bike-commuting was estimated to range around 5 and 7 percent as of 2015. There are also a number of city bikes now available in varying price ranges that make this mode of transportation more appealing than ever.
With more bicycles on the road, the number of road-related cycling injuries is only likely to climb. Until American drivers master biker-friendly techniques like the Dutch Reach, an LED integrated bike might be one of the easiest ways to make drivers more aware of cyclists on the road.
Mission is currently crowdfunding Lyra on Kickstarter.
h/t Designboom