The Most Luxe Apple Store Just Opened in Dubai (Of Course)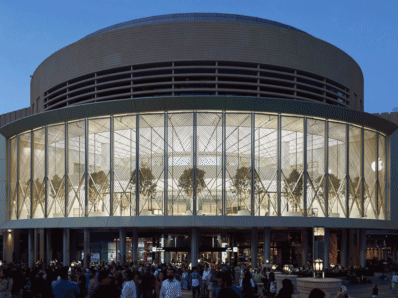 (Image credit: Apple)
The land of luxury homes with underwater views officially has the coolest Apple store in the world. Customers typically know what to expect when they walk into one of the brand's electronics stores, unless they've been lucky enough to visit the unbelievably posh Apple store in Dubai. Keeping in line with the destination's signature upscale offerings, the brand new location in Dubai Mall is completely over the top.
As Architectural Digest reports, Apple recently released photos from the glitzy location's grand opening on April 27, and this is probably the first time ever that tourists will visit a tech store just to snap a selfie. And why wouldn't they? The store is a prime spot for photo-taking, thanks to its views of the glamorous Dubai fountain, a 186-foot curved storefront and balcony, and – the pièce de résistance – a pair of Foster + Partners-designed solar wings that will help to cool the store down when the desert temps inevitably reach the more-than-balmy 100 degree-mark.
If it isn't obvious by now, this establishment is so much more than a store. As Apple's senior vice president of retail Angela Ahrendts describes it, the new spot also aims to cultivate a sense of community among visitors.
"We view our stores as a modern-day town square, where visitors come to shop, be inspired, learn, or connect with others in their community," Ahrendts said in a press release. "And what better place to come together than overlooking Dubai's epicenter, where the Dubai Fountain, Burj Khalifa, and Dubai Mall meet. We are so honored to have a home at one of the world's most incredible and dynamic intersections."
In addition to offering the latest and greatest Apple products and tech support, the store will also serve as an event space, hosting live musical performances, workshops, and more.
We once asked the question, "Do you make yourself at home at the Apple store?" If it's this fab Dubai location, don't mind if we do.