The New Tina Fey Show You Should Be Watching (But Aren't)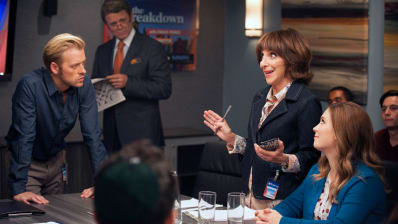 (Image credit: NBC)
If you've run out of Kimmy Schmidt episodes on Netflix and you still nurse a wound sustained by the loss of 30 Rock, you need to start watching Great News, ASAP. This joke-dense midseason replacement sitcom from NBC has the brains of co-producers Tina Fey and Robert Carlock behind it, and it was just renewed for a second season earlier this month.
Creator Tracey Wigfield (a 30 Rock writer, as well as a writer for The Mindy Project) executes a clear vision for this show, and even acts in a role as one of the newsroom's odd players. Briga Heelan stars as Katie, a TV news segment producer for a New Jersey network affiliate in a lower-tier market, and the pilot brings her mom, Carol (a perfectly-cast Andrea Martin) on to the news team as a 60-year-old intern.
I love this show's premise because Katie and Carol clearly have a good relationship, but as the episodes go on, we see more and more just how intrusive Carol is in her daughter's life (and now, work life). Plus, isn't it bizarre to imagine suddenly having to work closely with one of your parents, especially if said parent clings to a helicopter around you at all times?
The rest of the cast is great too, creating a tapestry of weird co-workers and characters not unlike the writers room in 30 Rock. Adam Campbell steps in as Katie's boss; Horatio Sanz, Sheaun McKinney, and Wigfield play two crew members; and a delightful combo of John Michael Higgins and Nicole freakin' Richie play two co-anchors who have almost nothing in common except for sometimes breathing the same oxygen. The generation gap and language barrier between the two lend themselves well to some of the show's best jokes. Plus, I hadn't seen Richie in a while, and her comedic timing is on point.
If you haven't watched yet, you can catch all 10 episodes of season one on Hulu right now. They're only 22 minutes each, and you'll be sorry when they're gone. Let the countdown to season two begin.