Is The Office Being Revived by NBC?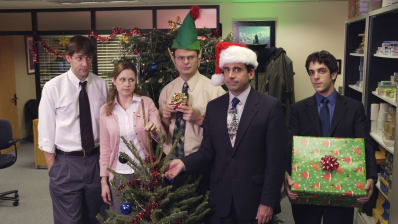 (Image credit: NBC)
Are we ready to go back to Scranton, PA for more stories from our favorite mid-sized paper company employees? NBC is reportedly banking on that being the case. The Office originally ran for nine seasons, ending in May 2013, but there's talk of a revival, Will & Grace-style. Just don't expect Steve Carell to be in it.
A revival of the workplace mockumentary-style comedy could go a lot of different ways, but as Jenna Fischer pointed out last month on Variety's Remote Controlled podcast, there would need to be an inciting incident that would bring everyone back together. For last year's Gilmore Girls revival on Netflix, that was the death of a character. Considering the Office is a comedy, I'm guessing they're not going to kill off Kevin for the sake of a 10th season.
Also, consider this: The premiere season of The Office was six episodes long, since it was a 2005 March mid-season replacement. By the end of nine seasons, there were 201 episodes. Are there more stories to tell?
When the series wrapped, a bunch of the main characters had left the company around which the show was centered. Carell peaced out at the end of season 7, letting seasons 8 and 9 blur together in my memory as simply "the Michael Scott-less era." At the end of the show's run, Jim and Pam moved to Austin for some reason, while Dwight and his cousin, Mose, almost got a spin-off show about their beet farm. This all feels like a fever dream, but it is fact.
Don't get me wrong — Seasons 2 and 3 of The Office are my ultimate comfort seasons of television, and I will watch the Christmas Party episode so many times next week. Booze Cruise is my ride or die. But that said, maybe let it die! It was wonderful for what it was in the mid-aughts, but I'm not sure it has a place anymore come 2018. Jim Halpert may have inspired me to date a handful of scruffy-looking guys who thought pranks were hilarious, but that character has aged poorly.
NBC's Will & Grace revival was unexpected, and seems to be doing well. Still, Will & Grace left the airwaves in 2006, while The Office has been gone for less than five years. Can we really miss it if it won't go away for a while first?