The Simple White Office: Get the Look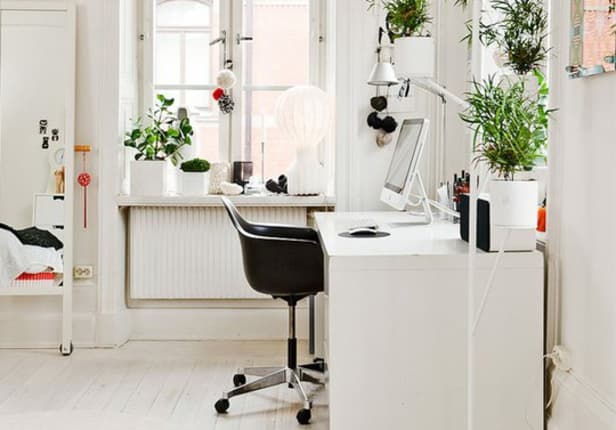 Don't get me wrong, I'm crazy about color in the home. But when it comes to the office, I like to opt for simplicity. This office is a great example of a modern space that, while using a great deal of white, still feels warm thanks to a few key elements. Read on to find out how to achieve this look in your workspace.
Furniture
Computerdesk.com
This online retailer is full of office furniture at slashed prices, though some digging may be required to uncover a true gem - like this Slight Office Chair for $179, which seems to evoke the essence of a classic Eames molded plastic chair.
Smart Furniture
A site that allows you to pick and choose designer furniture and then plan and customize your space to fit your specific needs, Smart Furniture is a great site for finding modern staple pieces for the office. Pictured here: Cascadia Desk, $899.
Room Accessories
Geneva
A more stylish alternative to the already popular BOSE speakers, Geneva's line of sound systems are engineered for simplicity, boast great sound and come in varying colors and sizes. Pictured here: Geneva Sound System Model S, $299.95.
IKEA
Always look to IKEA to dress up a room with stellar accessories at a good value. This Scandinavian superstore makes a great go-to when trying to achieving a designer look at a low cost - like this VÄTE Table lamp, $12.99.
Staples
Skip the boring desk accessories and opt for little things that will make you smile throughout the day - like Karim Rashid's new Pebbles Collection. The Post-it & tape dispensing duo is a modern take on a utilitarian object and will make a great addition to your desk for about $8.
ThePerfectRug
You want it - you got it, at this fully customizable online rug store. Choose from hundreds of materials like wools, synthetics, shags and grasses, then specify the binding to create a rug any shape and size your home requires.
Velocity Art & Design
What I love most about a simple white office, is that it provides a perfect backdrop for lots of greenery. Create different levels and even hang plants upside down with the innovative Sky Planters by BOSKKE. $14-109.
The Shade Store
A simple rolling shade is great for the office due to its minimal, distraction-free design. At the Shade Store, you can even find more energy efficient Solar Shades, made with GreenGuard Certified fabrics and available in several sheer tones. Prices vary.
Artemide
A leader in lighting, no desk is complete without a classic and well-designed task lamp by this Italian designer. Pictured here: Tolomeo Table Lamp by Michele de Lucchi and Giancarlo Fassina, 1987.
Image: Home Designing