The Kitchen Gadget That Sold Me on Kitchen Gadgets
I love gadgets, but not usually in the kitchen. Kitchen gadgets are often fads that come and go. Everything I find, however, comes with a good recommendation and this one came from a friend in LA, who emailed me with this crazy happy recommendation: "Maxwell! This thing is so exciting to use and it makes chopping so fun. I use mine almost every day."
Was she being paid to tell me this? Turns out, no — she genuinely loves this thing. So I got one and checked it out. Watch the video and read on below to see what happened next...
So first thing's first: Yes, it's fun.
Make a Salsa in 5 Pulls
I decided to try out a homemade salsa on my first foray with the Zyliss Easy Pull Food Processor. It seemed like the best combination of soft and hard veggies to test out — and the Zyliss website claimed that with just five pulls I could have a great chunky salsa. So I threw in some tomatoes, red onions, cilantro and the rest of the typical salsa fixins' and sure enough, five pulls later I had a chunky salsa. As you can see in the video, I took it a step further just to test the full extent of what this gadget can do and a few more pulls resulted in a traditional sauce-like salsa. The claims were accurate: it's very clear that creamy pesto or smoothies would be an easy task for this guy!
Non-Electric!
So we all know that food processors save precious time during meal prep, but I am often hesitant to use my typical electric processor — mainly because I know that the time it will take me to clean the thing afterwards almost makes me prefer to get out a knife and do the work myself. What I think I might love MOST about the Zyliss is that it is dishwasher safe, blades included. The ease of knowing that I don't have to precariously work a sponge around the blades after I'm done really makes the whole experience worth it to me.
Small and Portable
Finally, I realized that my "takes up too much space in the kitchen" defense was actually pretty weak. This food processor is small! While that may mean multiple turns in the chopper if you're making a larger meal, it also means it's ideal for all of us New Yorkers with limited cabinet space. And because it is manual, I can only imagine that it would be AMAZING for travel and camping (though I'm sure any hardcore campers out there will say that bringing a food processor with you means that you are definitely "glamping").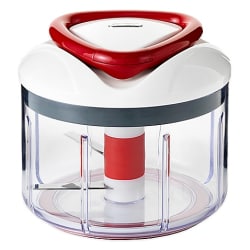 (Image credit: Zyliss)
This is all to say that I may not be sold on the general concept of kitchen gadgets, but this is definitely one that I can get on board with.
Got a great idea for a Daily Find? Send your submission to molly@apartmenttherapy.com!
Apartment Therapy supports our readers with carefully chosen product recommendations to improve life at home. You support us through our independently chosen links, many of which earn us a commission.