There's a Nationwide Secret Santa Happening in New Zealand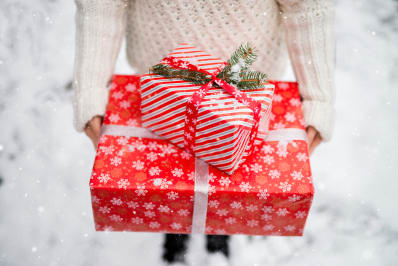 (Image credit: Pixel Stories/Stocksy)
There are a lot of delightful things about the island nation of New Zealand—including its landscape, people, and contributions to the global pop culture economy. The country of just under 5 million has given the world an abundance of gifts: The Lord of the Rings movies! Jane Campion's body of work! The most romantic song ever! Taika Waititi's everything! If that's not enough to make you consider a move to New Zealand (or congratulate yourself for living there if you are currently reading this in Auckland), the nationwide Secret Santa might push you over the edge.
A thoroughly modern twist on Secret Santa, the users are matched up through Twitter. Participants then try to figure out the ideal gift through some state-sanctioned social media sleuthing. Participants can fill out a questionnare to help their Secret Santa come up with gift ideas, or just rely on their internet personality to give the stranger an idea of what they like. The whole operation is overseen by the NZpost, and they have a dedicated warehouse for gift sorting. They took it over in 2013 from the man who started it in 2010, a self-described
"giant pumpkin grower".
Registration is closed, with 3,622 participants sleuthing and shopping. Even New Zealand's Prime Minister, Jacinda Ardern has joined in the nationwide gift swap.
So you may have noticed I don't tweet especially often (I just lurk) but as a ridiculous lover of Christmas, I couldn't miss the chance to join the @nzsecretsanta movement. Registration ends tomorrow so feel free to join in my over the top Christmas cheer

— Jacinda Ardern (@jacindaardern) November 21, 2017
Gifts will be delivered on December 18, and you can follow NZSecretSanta to watch the merriment unfold!
How to become a gift giving guru this season:
h/t Mashable