There's Now a Streaming Service Exclusively for British TV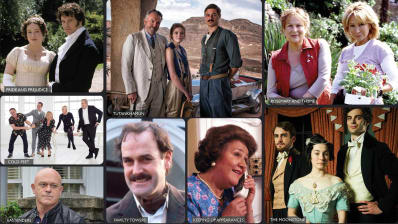 (Image credit: BritBox)
Alright, Anglophiles, you can cancel your VPNs because there's now an easier way to get your British TV fix. Streaming service BritBox just launched in the US today.
BritBox is a product of BBC Worldwide and ITV, the UK's biggest broadcaster, to deliver the best of British TV to an American audience. The service launched today with thousands of hours of programming across genres, costs $6.99 per month, and is ad-free.
Of course, you can already find some of Britain's biggest hits on other platforms; The original version of The Office is on Netflix and Hulu, Absolutely Fabulous is on Hulu, Great British Baking Show is on Netflix and PBS, and a variety of dramas, TV movies, and period pieces have had their run on PBS' Masterpiece. But, if your thirst for British TV cannot be satiated by the aforementioned shows, then BritBox definitely has you covered.
You can expect a mix of new shows and old classics, with new episodes becoming available as soon as 24 hours after their original airing. Some of the on demand premieres on the platform include, according to TechChrunch: "comedy/drama Cold Feet; buddy cop procedural New Blood; crime procedural Silent Witness; Tutankhamun, about the discovery of King Tut's tomb; and detective series The Moonstone." NW, an adaptation of Zadie Smith's best-selling novel, is coming later this spring.
Some examples of the classic British TV that's available: Rowan Atkinson's Blackadder, the James Corden show Gavin & Stacey, Upstairs Downstairs (both the original and the 2010 remake), Brideshead Revisited, AbFab, The Office, and Miss Marple.
If you're relatively new to British TV, the service does some A+ curation, including a top-notch list of shows of stars in their debut roles (hello, Idris Elba on AbFab and Daniel Radcliffe in David Copperfield!).
You can check out and sign up for BritBox here.