The Company Behind This Editor-Favorite Meat Thermometer Just Launched a Ridiculously Affordable Model — and It's on Sale!
We
independently
select these products—if you buy from one of our links, we may earn a commission. All prices were accurate at the time of publishing.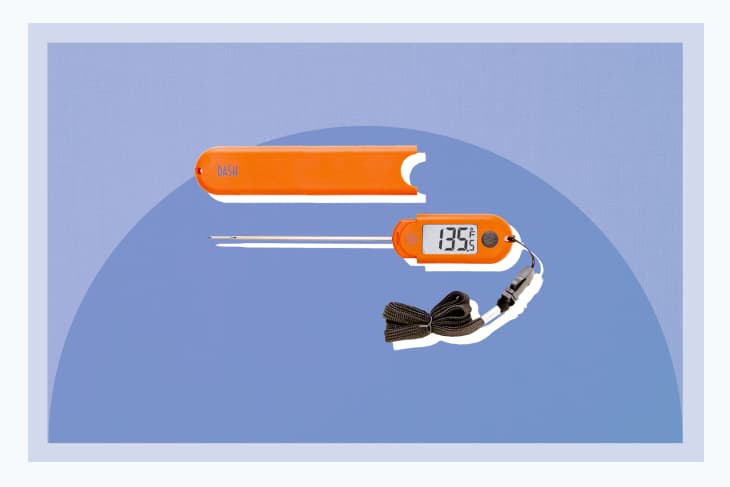 There was a time when I felt so confident in my meat-cooking skills that I relied exclusively on feel to measure doneness. Well, it may not surprise you to know this isn't always the most reliable method. And after slicing into an undercooked bone-in chicken breast (yikes!), I vowed never to prepare meat without an instant-read thermometer again! My choice? ThermoWorks' Thermapen, an amazingly accurate digital thermometer that happens to be Kitchn Editor-In-Chief Faith's go-to, as well. In fact, Faith loves it so much she calls it a magic wand. Admittedly, at $100, the Thermapen is a tad steep, but here's the good news: ThermoWorks just launched two new thermometers that are compact, accurate, and incredibly budget friendly: the DASH and DASH Mini. Each priced at $39, they're currently an extra 15 percent off during ThermoWorks' sitewide sale.
The colorful thermometers have a lot of the same features as the Thermapen, like a waterproof casing and temperature accuracy within one degree. As for the difference between the DASH and DASH Mini? It all comes down to the length of their probes, which measure 4.5 inches and 2.8 inches, respectively, and can give readings in as little as three to four seconds! If you plan to temp small items like chicken breasts, steaks, or pork chops, the Mini is perfect, while the DASH can reach deeper to the center of whole chickens, roasts, bread loaves, and saucepans. 
The extra-large, auto-rotating digital display adjusts depending on how it's positioned, and a 10-second backlight makes it easy to read. Whichever of the poppy colors you pick (there are nine), your new thermometer will stand out in a cluttered tool drawer, or, thanks to a built-in magnet, can be stored on a fridge or other metallic surface. 
In addition to the DASH and DASH Mini, ThermoWorks also just launched the Smoke X, a long-range wireless BBQ thermometer that's great for people who like to smoke meat but don't want to babysit super long-cooking recipes. You can also get the ThermoDrop, a portable, water-resistant thermometer that can monitor the temperature in your refrigerator or freezer.
Whether you pick the brand-new DASH, stick with the classic Thermapen, or opt for a mightier BBQ thermometer, ThermoWorks' sitewide sale is one you shouldn't miss. I've been fiercely guarding my thermometer for over five years now, and my only regret is that I wish I'd bought it sooner!