This Editor-Favorite Instant-Read Thermometer Just Got Even Faster — and It's 20% Off Right Now
We
independently
select these products—if you buy from one of our links, we may earn a commission. All prices were accurate at the time of publishing.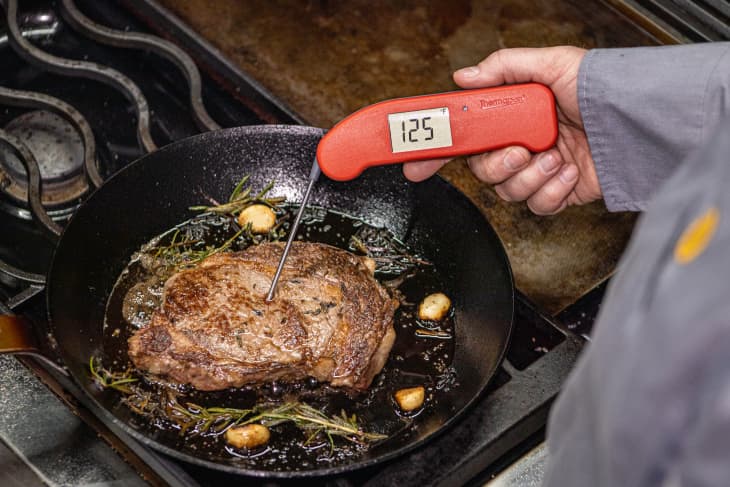 As much as I love my knives, Dutch oven, and coffee maker, there is only really one thing in my kitchen that I absolutely could not live without: my Thermapen Mk4! It is magical and always helps me cook my best.
What's a Thermapen Mk4, you ask? It's a super-fast, incredibly accurate instant-read thermometer that ensures you'll never undercook chicken, salmon, steak, bread, and the like.
Now, there are other instant-read thermometers out there, but I have yet to find one I love and can rely on so faithfully as this Thermapen. As far as I'm concerned, the Mk4 is a perfect tool. It has never let me down, and I know that professional chefs sing its praises too. So when I first heard that ThermoWorks (the company behind the Thermapen) was replacing the beloved model with a new thermometer that costs a few more bucks, I was skeptical. If it ain't broke, don't fix it! Right?
Turns out, I love it even more than my old one. The Thermapen ONE officially became available today, but I got my hands on one a few weeks ago and I still can't get over all the upgraded features.

Here's what's new with the Thermapen ONE:
It gives you full readings in just ONE second (thanks to "new advances in thermodynamics," the company says). One second! This makes it "the first true one-second instant-read thermometer."
It's accurate to half a degree.
It has a brighter, even more responsive auto-backlight.
It has a 5-year warranty!
It has a newly designed battery compartment that's easier to access.
Of course, the Mk4 was the gold standard of instant-read thermometers for a reason. So there are some things that stayed the same with the ONE. Here's what the ONE has in common with the Mk4.
It has a folding probe that requires no buttons or knobs to operate.
It has a motion-activated sleep and wake mode.
It's waterproof to "IP67," which means it's resistant to dust and can be submerged in a meter of water for a half an hour and be totally fine (so it'll absolutely withstand any kitchen accidents).
It has an auto-rotating display, so you can read it so matter how you're holding it.
It has a "silver-based additive," the company says," that gives it "antimicrobial protection."
It has a calibration certificate that is verified to national standards.
If you ever need to have your thermometer recalibrated, Thermoworks still offers that service!