One of Our Favorite Food Thermometers Is $30 Off Right Now — but Not for Long!
We
independently
select these products—if you buy from one of our links, we may earn a commission. All prices were accurate at the time of publishing.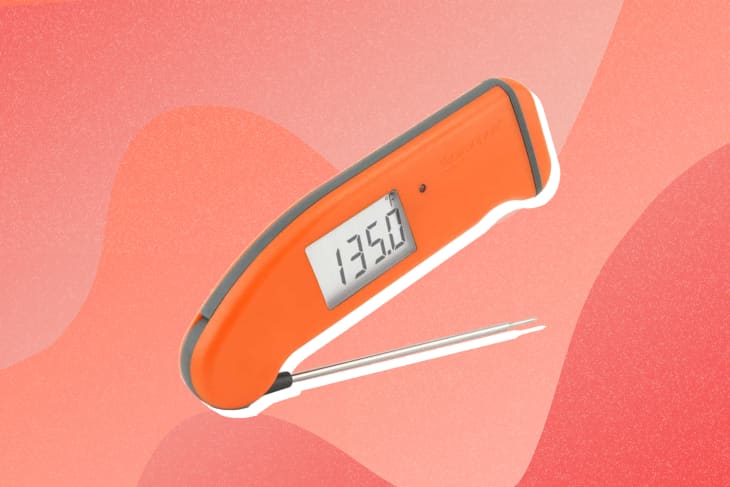 A couple of weeks ago, our sister site, Kitchn, highlighted this incredible deal from ThermoWorks, where you could save $30 on a brand new grey-colored Thermapen. But if you ended up missing the deal (hey, it happens) don't worry about it, because we got you … or rather ThermoWorks does! The brand is once again hosting one of its rare sales, and this time around you can snag a bright orange Thermapen for just $69 (normally $99).
For anyone unfamiliar with a Thermapen, it's one of the best meat thermometers on the market, and it takes less than three seconds (!!) to give you an accurate reading. This essentially means that, unlike other thermometers that can take up to 30 seconds or more, you get to know the temperature on your bubbling meal ASAP, so you can shut the oven door or place the lid back on the pot to prevent any of that beautiful heat from escaping. And aside from heating things up, a thermometer comes in handy for when you're cooling things — like ice cream, kombucha, yogurt, and even chicken stock to see if it is cold enough to go in the refrigerator. "Why guess? Just take the temperature," says Kitchn editor-in-chief Faith, who considers the Thermapen a "game-changer" for both new cooks as well as experienced ones.
Aside from getting a quick read on your meals, a high-quality meat thermometer also helps maintain safety standards in your kitchen. For instance, taking the temperature on dishes like undercooked burgers, chicken, meats, and seafood keeps the threats of salmonella and E. coli at bay.
So what are you waiting for? Go ahead and get your kitchen equipped with this cheery orange Thermapen. As Faith puts it: "A thermometer is a shortcut to precision, and in cooking now and forever." And let's face it, who doesn't love a good shortcut?