These Dog Houses Are Designed by Starchitects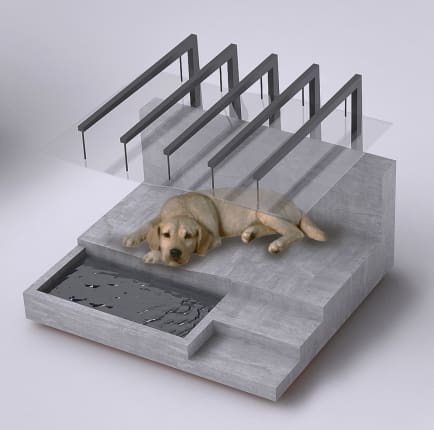 (Image credit: Jia-hao Syu, Design Haus Liberty)
If your dog is a design buff, then here's a way to cater to their discerning tastes: Blue Cross for Pets teaming up with the Outdoor Arts Foundation and world-renowned photographer Drew Gardner to present a collection of pet furniture from some top architecture firms.
The dog-inspired designs will be unveiled at BowWow Haus London, a public fundraiser and exhibit that will display "artistic dog kennels" created by 80 designers, architects, builders, artists and celebrities. The event will feature pet furniture designs from several lauded firms including AHA Design, FT Architects, Studio Shaw and Zaha Hadid, which contributed a sphere-like dog kennel dubbed "Cloud."
In addition to ZHA's "Cloud" creation, all of the artistic renderings from the auction's other participants can be viewed on BowWow Haus London's website. Needless to say, these creative canine sleeping quarters definitely don't disappoint. There's Sarah Stanley Mosaics' rather fancy dog kennel, which is designed with Italian mosaic tiles and French porcelain and Natalie Guy's teepee-meets-kennel design; Russian For Fish's Kremlin-turned-doggie sanctuary is one of our personal favorites along with that of Studio Shaw, which features a staircase and a landing that serves as the kennel's cozy chill spot for its canine occupant.
(Image credit: Brian O'Tuama Architects)
Those in search of one-of-a-kind dog kennels to appeal to their pets' comfort levels (and aesthetic preferences) will be able to view the dog houses in various locations around London for approximately four months at the start of next year. Then, interested buyers will be able to place bids online before the kennels go up for auction in May 2018.
The proceeds from the auction will go toward the Outdoor Arts Foundation and renovation costs for the Blue Cross Hertfordshire rehoming center. Check out more designs over on their website.