These Floor Plans Recreate Your Favorite TV Homes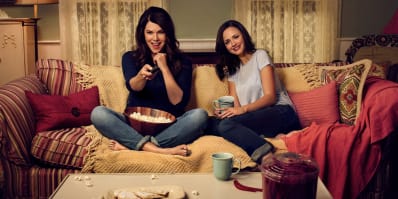 (Image credit: Netflix)
When you settle down for an episode or three of your favorite TV show, you get a limited sense of what it be like to hang out in the homes of the fictional characters, but there's only so far your imagination can take you. Thanks to these detailed floor plans created by Homes, you can now take a virtual tour of your favorite TV residence and make a more informed decision about whether they're as dreamy (or cramped) as they look on the screen.
For instance, if you've been dying to get a feel for Rory and Lorelai's cozy digs, there's an intricate floor plan for the pair's two-story Stars Hollow home. No word on whether this layout is before or after Luke and Lorelai's remodeling project, but you still get the gist of how the home would appear IRL.
Just because Walter White's family home on Breaking Bad wasn't exactly the happiest place on Earth (some pretty shady stuff went down there) doesn't mean fans of the show don't want a glimpse inside. The Homes layout provides a thorough glimpse at the White's Albuquerque residence. This is only fitting for a TV house that received its own (fake) Century 21 listing on Craiglist.
If we were to design a space that helped us battle evil in vampire form, it would most definitely be modeled after 630 Revello Drive in Sunnydale, California. Homes provides a cheat sheet for this project in the form of Buffy the Vampire Slayer's house layout. The two-story bungalow style pad Buffy Summers shared with her mom is spacious enough to host her fellow vampire slayers, friends and any other unwelcome visitors.
Among the other TV home floor plans are The Bluths' Newport Beach model home from Arrested Development; Eliot's studio apartment from Mr. Robot; and Charlie and Frank's dim bachelor pad from It's Always Sunny in Philadelphia.
See all of them over on Homes.com.
h/t BuzzFeed