4 Things You Should Never Buy from Costco (Unless You Really Need To)
We
independently
select these products—if you buy from one of our links, we may earn a commission. All prices were accurate at the time of publishing.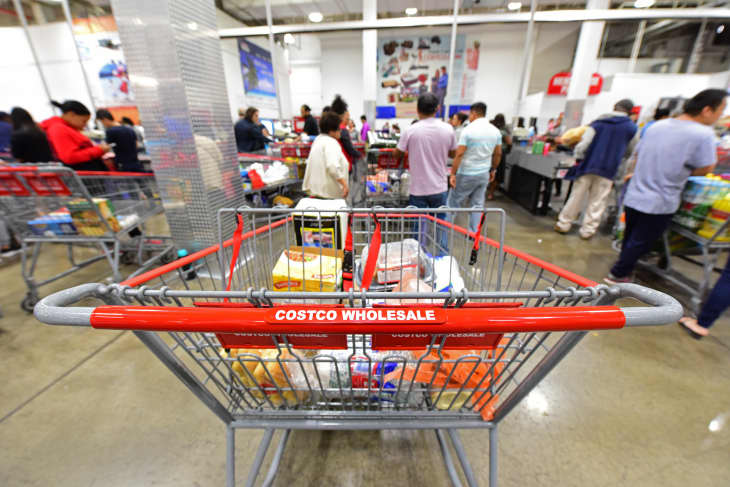 It's hard to say no to anything at Costco, the land of great deals. In almost every category, its rock-bottom bulk prices beat every other store. But those deals aren't so great if you end up throwing away half of your haul because you didn't consume it fast enough. Shopping in bulk requires frequent reality checks: Before you start tossing items in your cart, ask yourself if you really think you can use it all.
Think about it: That giant bag of brown rice is a great deal, but the oils in brown rice can go rancid within months. Does your household eat brown rice fast enough? Or do you have the fridge or freezer space to store it? If not, it's better to push your cart right on by that gazillion-pound bag. Here are a few other items you might want to avoid.
1. Fresh fruit and vegetables
No one is saying not to buy fresh produce at Costco. There are incredible deals to be had in the produce area—but you must commit to using it up. Large households likely won't struggle in this arena too much, but families of two or four should think twice before reaching for that massive bag of broccoli florets or that case of avocados. Will you really use it all before it goes bad? Are you prepared to eat that same ingredient every day for a week or more? If not, you're likely to waste food and your money.
Although spices don't spoil, they definitely lose their punch over time. Pro chefs will say you should replace your ground spices every six to eight months so that you're always cooking with maximum flavor. So before you reach for that giant jar of rib rub, ask yourself if you really plan to cook that many ribs in the next six months, or if you'll end up throwing most of it out.
3. Big bottles of vegetable oil
I go through extra-virgin olive oil at a steady rate, so I have no trouble using up a giant bottle of Kirkland's excellent olive oil before it starts to go bad. But vegetable oils—like canola—are a different story. Unless I'm deep-frying, I rarely use them. But once that bottle is open the clock starts ticking. On more than one occasion I've reached for a warehouse-sized bottle of vegetable oil only to find it's gone off. Lesson learned.
4. Pasta and some canned goods
This category may come as a surprise, because dried pasta and canned goods seem like perfect contenders for bulk buying. But the thing is, when grocery stores put these items on sale, they usually beat even Costco's low prices. In fact, the six-pack of organic Garofalo pasta at Costco is about 30 cents more per pound than the everyday prices on dried pasta at Trader Joe's—and you'll have to clear away a ton of shelf-space to store it.
What are the things you never buy at Costco? Discuss in the comments below.