3 Things You Should Never Try to Paint, According to a Real Estate Agent
We
independently
select these products—if you buy from one of our links, we may earn a commission. All prices were accurate at the time of publishing.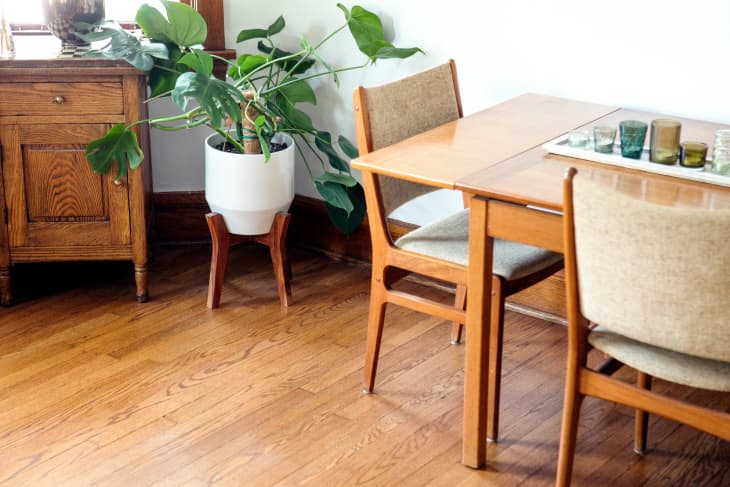 But things move from subjective to objective when it comes to what you should and shouldn't paint. A rookie mistake that people often make? Forgetting to use primer before opening up their paint cans. 
"Paint should never be applied to softwood surfaces such as pine, cedar, or redwood without a primer," says Kerry Sherin, consumer advocate at Ownerly, a New York City-based home valuation company. "Primer prevents tannin bleeds and other discoloration issues."
While painting is the fastest and most transformative action homeowners can take, some pitfalls may only be apparent once the paint job is underway, cautions Gerard Splendore, a broker with Coldwell Banker Warburg in New York City. Ahead, Splendore shares the three things in your home you shouldn't paint.
Even when done professionally, painting wood floors can go awry. This is a job that requires a lot of preparation, from sanding and filling cracks or holes to sealing the finished product, Splendore says. 
"Painting a badly stained wood floor will not help remove or conceal the stains, as they will reappear over time, particularly in high-traffic areas," he says. "Holes, cracks, imperfections, and nails popping out will only look worse when painted."
Painting brass hinges and hardware on doors can backfire, as the paint will harden when it dries, impeding the ability of the hinge to work, Splendore says. Plus, over time it will peel off and look sloppy.
You'll also want to avoid painting doorknobs. 
"Doorknobs that are touched, obviously, by hands that have natural oil, will not wear well," he says. "Either replace the doorknobs or have them re-plated professionally, but don't paint them."
If you're on the DIY side of TikTok, you've probably seen some beautiful bathroom transformations that involve stenciling patterns onto beige tiles — a hack that's much cheaper than replacing your tile altogether and that can add some color or a pattern to your space. 
But painting bathroom tiles could go either way. You see, it's not practical to paint tiles that are close to areas that get wet — i.e. any tiles that are near your tub or showers. That's because the water, over time, can make the paint peel or blister. 
If you do decide to paint bathroom tiles, you've got to do the proper prep work, says Splendore, including using an epoxy primer on ceramic or porcelain tile and sealing the tile once you're finished.