This 10-Year-Old Built an Off-the-Grid Tiny House for $10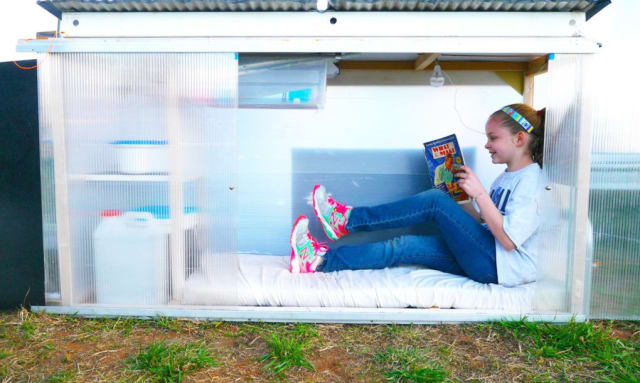 (Image credit: via Relax Shacks)
Are you feeling productive today? Well, this 5th grader is here to show you up. Ten year old Callie Hilton built an off the grid, solar powered tiny house as shelter for the homeless for a school project. And if that wasn't impressive enough, the materials only cost 10 bucks.
Callie's project, which has the amazingly alliterative name Callie's Coop, may be on the small side, but it definitely gets the job done. In fact, the structure even scored her a speaker spot at the 2017 Georgia Tiny House Festival earlier this month.
In a video tour posted by Relax Shacks, Callie describes all the components to the Coop. One side of the interior holds a mattress, while the other side is storage a composting toilet, water storage, and a solar-powered cooking container. The corrugated roof is at an angle, so that the structure can utilize and collect run off rainwater that flows into a storage container in the shelter via tubes. There's a 5-volt solar panel on the roof that powers a lightbulb inside.
And that's not all—the tiny house is also mobile. Callie attached walker handles to one side so that it can be portable. The structure is only 25 pounds and she demonstrated how she can move it herself. She even installed a lock on the doors so they don't move around in transit. This girl has thought of everything!
Callie explains that for her class project, everyone had to choose between the solar system or solar energy (she obviously chose solar energy). Another classmate decided to create a solar oven, so she was inspired to build a tiny house (we love your competitiveness, Callie!). She gathered inspiration from a bunch of YouTube videos, and then came up with her own design.
Check out Callie's Coop for yourself in the video below:
h/t Curbed