This Under $100 Amazon Find Turned Me Into a Cool Plant Parent
We
independently
select these products—if you buy from one of our links, we may earn a commission. All prices were accurate at the time of publishing.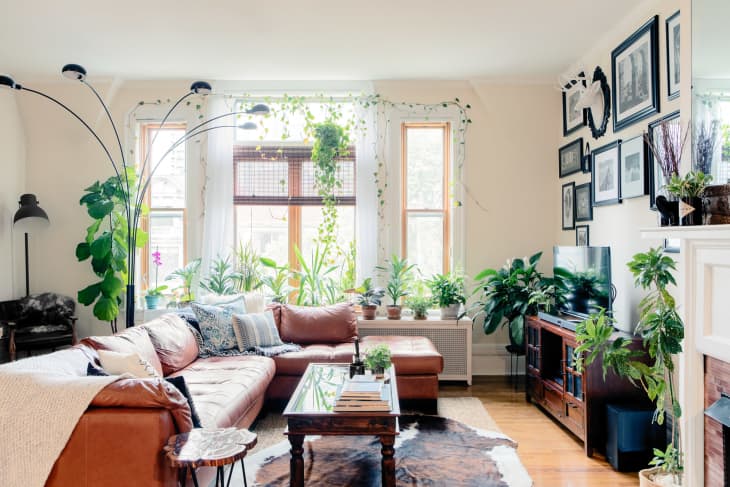 My new apartment marks a lot of firsts: The first time living on the West Coast, the first time living with my boyfriend, and, perhaps the most ground-breaking, my first time as a plant parent.
You see, my former apartment didn't get a lot of natural light, so there was no logical place to put plant babies. But now that I have a bunch of sun-drenched windows, it's finally time to turn my home into an urban jungle. The only question is, where exactly do I put them? My windowsills are too narrow for a bunch of succulents, and I'm not sure I'm ready to raise tree-sized plants, which I'd be able to place right on the floor in their planters. That's when Amazon came to the rescue with this gem of a solution.
Fortunately, I stumbled on this Kate and Laurel Finn Tri-Level Metal Plant Stand, and it's just the accessory I needed to up my plant parenthood game. Comprised of three metal perches, this find turned my budding collection of plants into an artful showpiece.
Of course, good looks are only one piece of the puzzle. Not only does this stand raise my plants to the height of my windows, providing them with more direct sunlight, but it also protects floors from water damage should I give my greenery a bit too much water. It's also a great space saver, since the step arrangement of its trays means you can display three medium to large sized plants in a pretty small area. Best of all? The stand arrived pre-assembled, so all I really had to do was set my plants on it and enjoy the view.
At just under $100, the Kate and Laurel Finn Tri-Level Metal Plant Stand might not be in everyone's budget. But when you think about how much you spend on buying plants themselves (especially if you're a black thumb struggling to keep plants alive), you'll get a little peace of mind knowing this could help keep your plant babies healthier in the long-run.