This Bridge In Sweden Got a Playful, LEGO-Inspired Makeover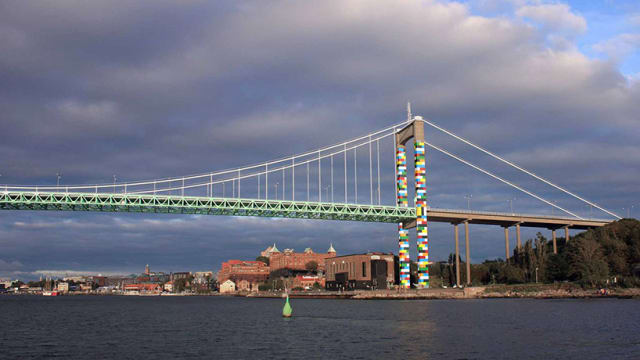 (Image credit: Christo Guelov)
In case anyone needs permission, you're never too old to play with LEGOs – or to use the vibrant toy blocks as a form of artistic inspiration. Even if you're not one of those shameless grownups who haven't stopped indulging in the block-building fun, there's no way you can look at this LEGO-painted bridge in Gothenburg, Sweden and not experience at least a little bit of nostalgic glee. Or maybe a lot! Either way, it's a cool and colorful sight to behold.
(Image credit: Christo Guelov)
While it's not quite an example of LEGO blocks being used as actual construction material, Madrid-based visual media and conceptual artist Christo Guelov gave Älvsborgsbron Bridge one of the most extraordinary paint jobs we've seen, and the result is simply marvelous.
According to Designboom, the structure's central supporting columns received the LEGO painting treatment as a part of Let's Color Gothenburg, a competition-centered initiative that seeks to provide jobs for unemployed youth and bring the city together with paint and bright, eye-catching colors. The suspension bridge – which was constructed in the 1960s – represents one of twelve winning projects.
As a part of the competition, youth participants receive training to become professional painters, and they also get to put their skills to use in various public art projects throughout the suburbs of Gothenburg, which is apparently affected by a high rate of unemployment.
(Image credit: Christo Guelov)
Of his LEGO bridge artwork, Guelov writes, "The artistic intervention seeks to break the gravity, the volume and the great weight of the intervened object," further explaining that the paint helps to smooth the bridge's silhouette and add emotion to the surrounding area.
For more of Guelov's vibrant twists on ordinary city sights, check out Funnycross, a project in which the artist completed a uniquely colorful redesigning of various Madrid crosswalks.