This Creepy Face Clock Tells Time With Crossed Eyes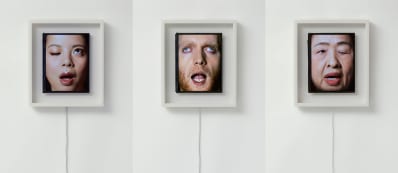 (Image credit: We+)
If your design aesthetic skews towards the strange, we've got the perfect wall accessory to suit your decorative tastes. Tokyo-based contemporary design company We+ released a set of wall clocks that uses a digital display of the human face in a way that is kind of, well, scary. Let's just say you wouldn't want to roll over in the middle of the night and see this clock staring back at you.
Dubbed "Patience," the name of the clock set is just as odd as the timepieces' appearance. The backdrop incorporates a looping video of a human face. The eyes move in various unnatural directions and take the place of traditional analog clock hands – the right displays the hour and the left displays minutes. The second hand is represented by an opening and closing mouth, which produces the sound of lips smacking to keep the facial function theme going (so much for tick-tock).
Hmm, does anyone else feel like this quirky design belongs in the Beetlejuice house? See it in action in the video below:
Selective about your creepy clock mug of choice? We+ has you covered. The clock comes in three varieties: the face of an elderly woman; a young woman or a red-bearded guy. It's definitely not the most clear-cut clock display out there, but it's certainly one of the most visually intriguing. The clock sets have been displayed in galleries in Milan and Paris, but they don't have a price point yet. Interested buyers should contact We+ through the company website for more information.
Award-winning We+ founders Toshiya Hayashi and Hokuto Ando are known for their unique installations, products and graphics, which often merge unconventional materials and technology.
Among Hayashi and Ando's other human anatomy inspired works is Eye Understand, an installation in which eyes displayed on a bright yellow wall follow the viewers from their vantage point.
h/t The Verge