This Groom Went Rogue To Have a Fixer Upper Wedding, And Chip & Jo Had A Sweet Reaction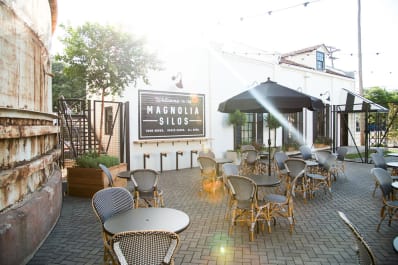 (Image credit: Magnolia Market)
A Texas couple who decided to do up their wedding Magnolia-style couldn't have predicted these plot twists. Stacey and Lora McNabb had a minister marry them years back, but it seems Stacey forgot to file the marriage license—meaning the duo was not legally husband and wife. So the McNabbs decided to hold their official ceremony at one of their favorite places—The Silos in Waco, TX, a.k.a. the headquarters of Fixer Upper stars Chip and Joanna Gaines.
Stacey told blogger Rachel Teodoro that while they were originally set on having a small ceremony at The Silos, the head honchos notified Stacey via e-mail just a couple days before the ceremony that the weekend of the Christmas Concert was just going to be too busy on the property. However, everything was already booked for the celebration, so Stacey decided to go rogue. He kept the e-mail a secret from his wife, their pastor, and a few friends, and decided to have the ceremony anyway.
As they completed the ceremony, Stacey and Lora and their small party were approached by a Magnolia employee. Stacey assumed they were busted for holding an event without a permit. But instead, the employee said that he had seen the garden ceremony happening, and texted a pic to Chip Gaines. It turns out that not only did Chip and Joanna want to offer their congratulations, but they also had a $1,000 gift certificate to Magnolia Market as a wedding gift for the couple.
"Our Silos wedding had just been made so much more memorable by the generosity of Chip and Jo," the couple told Teodoro. "We have since shared our story with hundreds of people across the county because it is confirmation of just what good people Chip and Jo really are."
To see the couples' wedding photos and get all the details about the secret wedding at the Silos, visit RachelTeodoro.com.