This Human-Sized Birdhouse Also Makes Room For Feathered Friends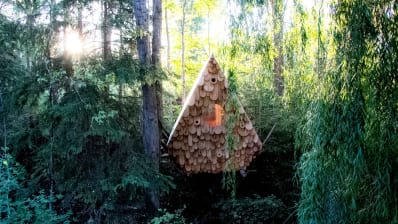 (Image credit: Studio North via Dezeen)
This is probably the one time in history that humans won't mind partaking in something that's been deemed "for the birds." We totally expect avian enthusiasts and nature lovers alike to flock to this wooden tree house that accommodates both humans and birds – at the same time.
(Image credit: Studio North via Dezeen)
Located in the mountains of Western Canada, the "Birdhut" is the project of Calgary design firm Studio North. It was created as a haven for humans as well as 12 varieties of local birds, and in its own words, "whatever inquisitive critters come by to visit." The tree dwelling is a tight 100 square feet, which includes 12 birdhouses on the outside and just enough lounging space for two campers and a few potted plants to serve as decoration inside.
In order to mirror the process of building a bird's nest, all of the materials used to construct the hut were collected from the surrounding area.
(Image credit: Studio North via Dezeen)
For instance, wooden stilts sourced from a lodgepole pine logs that survived a fire elevate the hut nine feet off the ground, helping it blend in with its tree-filled surroundings. Recycled wood taken from an old cabin deck make up the hut's cladding and platform.
Carved holes placed at varying heights dot the transparent polycarbonate and western red cedar-clad exterior in order to accommodate the nesting habits of the birds the tree house attracts. Two circular windows on the structure's front and back surfaces work to ventilate the space, while the polycarbonate panels help to camouflage the 20-foot-tall roof of the Birdhut and allow sunlight to penetrate and heat the interior.
(Image credit: Studio North via Dezeen)
Non-winged campers can access the tree house by way of a bridge that connects to a hillside and a stone walkway that directs them to a campfire and a natural spring.
h/t Dezeen