This Livestream of Kittens in a Dollhouse is the Best Kind of Reality TV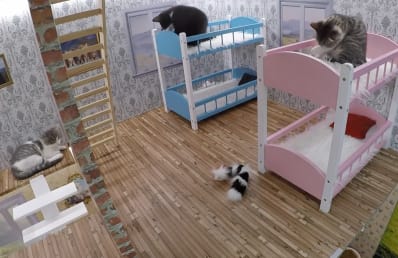 (Image credit: Nútíminn/Skot Production)
Even if you've never seen an episode of Keeping Up with the Kardashians, we can assure you you'll be wooed by this Icelandic spinoff. Keeping Up with the Catdashians is the cutest reality TV show you'll ever watch.
(Image credit: Nútíminn/Skot Production)
In this Big Brother-esque livestream, four orphan kittens share an oversized dollhouse, and you can watch them eat, sleep, play, and make a mess—just like a Kardashian, but way cuter.
The nine-week old felines stay in the house for three to four weeks until they're adopted, and then new kitties move in—which seems much nicer than getting voted out of the house, and then going on to some other reality show (though we'd totally watch Kittens in Paradise).
(Image credit: Nútíminn/Skot Production)
The two-level kitty house features patterned wallpaper, two sets of fuzzy bunkbeds, and a trio of mini Ball chairs (they must be fans of Finnish design).
Skot Production, Sagafilm and local news site Nútíminn have created the Kattarshians (that's how you spell "Catdashian" in Icelandic—now you know) in cooperation with The Icelandic Cat Protection Society and with full knowledge and approval of the Icelandic Food And Veterinary Authority, the Animal Welfare Officer and the Expert Veterinarian and Animal Welfare Officer.
And don't worry, the furry stars get a break from the camera. According to the production company, "Employees and volunteers from The Icelandic Cat Protection Society take care of the kittens and make sure they get a sufficient time with people which is very important. They also take care of housekeeping, cleaning the litter box and serving food. Meanwhile we take a break from the streaming. This happens 2-3 times a day."
And if you're worried about getting sucked into the livestream and maybe never doing anything productive ever again, Nútíminn created a highlight reel that's only a minute long. Check out the adorable stars below: