This Skyscraper Inside a Tree Could Be Our Sad Yet Beautiful Future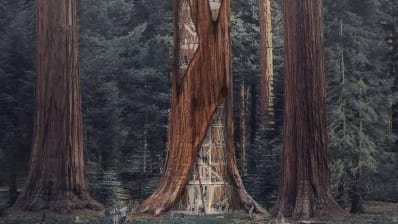 (Image credit: Ko Jinhyeuk, Cheong Changwon, Cho Kyuhung and Choi Sunwoong)
If someone asked us to come up with a blueprint for the treehouse of our childhood dreams, we seriously doubt our adult imaginations could conjure up something as innovative as this mind-blowing conceptual skyscraper within a tree.
Dubbed Tribute: The Monument of Giant, the impressive proposal involves installing towers in the hollowed out trunks of California's giant sequoias, the planet's most ancient trees as well as Earth's largest living creature. The stunning design was an entry in this year's eVolo skyscraper competition, in which architects and designers are tasked with creating futuristic buildings.
South Korean designers Ko Jinhyeuk, Cheong Changwon, Cho Kyuhung and Choi Sunwoon collaborated to develop this stellar arboreal vision, which doubles as a major dose of design creativity and an attempt to bring awareness to the unfavorable impacts human consumption has on the environment, namely deforestation.
(Image credit: Ko Jinhyeuk, Cheong Changwon, Cho Kyuhung and Choi Sunwoong)
"This project attempts to show a new architectural approach to human coexistence with nature, in harmony with the nature's temporality," the design team said.
In addition to being an innovative method of constructing buildings, the Monument also functions as a structural reinforcement that keep the giant sequoias from falling, an event that takes place naturally when the shallow-rooted trees begin to rot.
"The architecture quietly takes place in the empty void of trunks, without hindering the breathtaking landscape formed by the giants. It then becomes active as an artificial organ to replace the trunks rotten away."
(Image credit: Ko Jinhyeuk, Cheong Changwon, Cho Kyuhung and Choi Sunwoong)
Each level of the proposed structure is designated for laboratories, education, exhibitions and observation decks. The team's vision also includes a water distribution system that mimics the tree's natural method of absorbing the life-sustaining liquid from the ground and routing it upwards.
For the design team, creating a modern structure that works with nature instead of against was of the utmost importance.
"It may be a valuable experience for those to feel the synergy of the beautiful landscape of the giant sequoia forest fused with the amenity space, which is quite different from the grey building forest of cities," the team said.
h/t Dezeen