This 'Snuggling Cinema' Brings Netflix & Chill to the Big Screen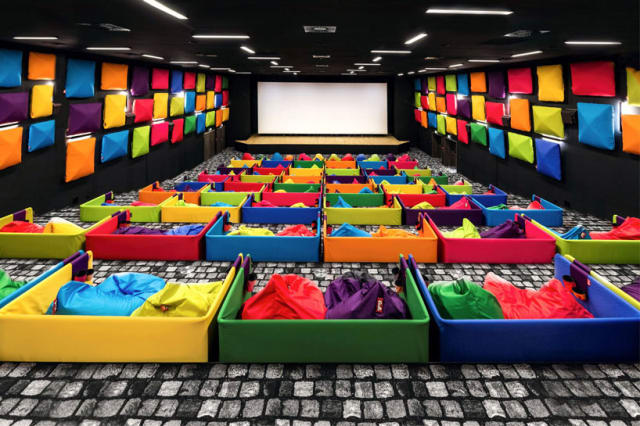 (Image credit: Erik Duriš via Designboom)
Movie theaters have modernized in many ways, from being one of the first spaces to be air conditioned to offering food and beverage service during a show. One theatre in Slovakia is upping the cozy factor—by replacing seats with cushy bean bags.
(Image credit: Erik Duriš via Designboom)
Tulikino, or "snuggling cinema," was designed by Michal Staško for the X-Bionic Sphere resort and multiplex in Šamorín, Slovakia. Aside from the big screen and stadium-style tiers, the similarities to your neighborhood theater end there. Instead of traditional seating, there are brightly colored Tuli beanbags that—unlike the wildly-varying comfort level of your average cinema seat—conform to your body, "creating ideal support while you sit or lie down."
(Image credit: Erik Duriš via Designboom)
The beanbags are grouped in pairs with partitions around them, for a little canoodling privacy, but also offering a place to stick a cupholder.
h/t Designboom